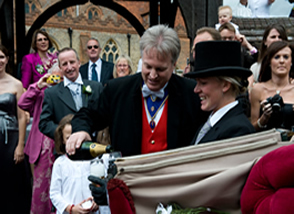 English Toastmaster pouring champagne for
the Bride and Groom at Great Baddow Church, Essex.
Photograph courtesy of Essex wedding photographer
David Court www.courtoncamera.co.uk
If you are getting married in or around Essex and
are looking for an Essex wedding disco
for your special day please contact -
The Classic Nomad Disco & Light Show Experience for
further details.
Just a few of the very kind testimonials received over the past few years
Hi Richard, Just wanted to say a very quick thank you for everything that you did for us on Saturday - you were flawless - we shall send you some other pics with a card when we get back from honeymoon - but thought you might like to see the attached pictures!! Take care and thank you so much! Love Emma and Lewis Fanhams Hall 28th February 09
Dear Richard, Well, what can we say? Absolutely fabulous reception, made even better by your kind and attentive presence. Karen and I would like to thank you for tending to our every need and that of our friends and family on such a special day. The comments we received were all along the lines of "the best wedding we have ever been to, and so well organised". We have to agree. You made all the wedding party calm and focused and without hesitation you came to our aid if we needed it. Always professional.
Once again Richard, first class professional service, kind and attentive actions always with forethought, experience and humility made you the best there is. We would not doubt to recommend your services as Toastmaster under any circumstances. Thank you once again for a marvelous day.
Hope to see you again in the future, that's when we have returned to earth. We are still somewhat in the clouds. Kindest regards, Steve and Karen Clarke Down Hall 22nd November 08
Dear Richard, I wanted to thank you quickly for being there on our wedding day and doing such a fantastic job from start to finish. Everyone has commented and said how helpful you were and John and I were over the moon with your politeness, professionalism, kindness, humour and patience!! You really went out of your way to help when it wasn't really your duty to do so. Thank you so much for making our day so special. Kind regards Sarah & John x Ivory Rooms, Essex 8th November 08
Hi Richard, We would like to say a huge thank you for everything you did to make Sunday the most magical day we could ever have dreamed for. Your presence on the day gave us both a feeling of reassurance and confidence. Thank you from the bottom of our hearts. Speak to you soon. Sarah and Roger Channels Golf Club 5th October 08
We just wanted to write to thank you for your hard work on Sunday. Things wouldn't have run so smoothly without you. Best wishes, Lucinda and Martin The Park Lane Hotel 29th June 08
Dear Richard Just wanted to say a big thank you for helping to make our wedding day so special. Everyone said how smooth the day went and how helpful you were. You were always in the right place at the right time. A special thanks for looking after my Nan and Grandad, and pumping up her tyres! We didn't find out about all the things you did to help on the day until we saw everyone after our honeymoon. We are so pleased that we chose to have a Toastmaster and even more pleased that it was you. You did such a great job, we have such lovely memories as we were both able to relax and enjoy the day knowing you were there to take care of everything. We would definitely recommend you to all couples planning their wedding, so their day could be as special as ours. Kind regards, Michelle and Matthew Hylands House 23rd August 08
Dear Richard, Just a quick note to say thank you for being such an excellent toastmaster at our wedding. There is no way it would have run as smoothly without you and we're glad what you said about it not raining when you wear your red coat came true! Even guests have commented on how excellent you were! Thank you so much. Dawn & Glyn Gaynes Park 16th August 08
Dear Richard, Well what can we say! First we would like to say a massive thank you. The help and support you gave to me and Steve was unbelievable. We couldn't have done it without you. As a friend to us you were amazing. As a professional you were brilliant. The service you provided gave the best day ever. Everyone you recommended to us played a big part in the smooth running of the day, which made our day what it was. THE BEST DAY EVER!!! Thank you again for all your hard work. Love Mr and Mrs Webb xxx Ivy Hill Hotel 19th July 08
Dear Richard, Just a letter to say thank you very much for all your help on our wedding day, you did a splendid job, you kept everything running smoothly, you organised everybody with great ease and got everybody smiling. All our guests commented on how good you looked, how nice you were and what an organised man you are. You were prepared for anything e.g. when the hotel told us yes, they had a CD player when they actually didn't, you came to the rescue. We could not have had a more smooth and relaxing wedding, thank you for everything. We will definitely recommend anyone we know who could be getting married to have a toastmaster and 100% would recommend you! Once again, many thanks, keep up the good work. Zoe & Graham xx Churchgate Hotel 5th July 08
Dear Richard, We would both like to thank you very much for all your help on our wedding day at Newland Hall. We could not of got through the day without you, everything ran smoothly and the day was more perfect than we could ever of imagined. One of our favourite parts of the whole day was walking into the wedding breakfast where you announced us as Louise and Robert White for the first time and hearing all our friends and family giving us a fantastic welcome. Once again a huge thank you for making our special day perfect. Love Louise and Rob Newlands Hall 27th June 08
Dear Richard, I am so very sorry that I never said a proper personal thank you for your very professional performance on Sunday. Not only didn't I speak to you but I can't remember even seeing you, so just how discreet can that be? Richard, your orchestration was absolutely perfect and you have my great admiration and eternal thanks for being such a truly capable toastmaster. When considering that there was never any rehearsal the whole day went as clockwork and my wife and I continue to receive rave reviews and thanks from the guests. Shall any similar event occur in the future, for which I have an input, I will unhesitatingly recommend you. Nancy and Wayne have described their Wedding Day as absolutely perfect and that for me is all I ever wanted to hear. Thanks again Richard, Michael Scruton Proud Father. Gaynes Park 23rd March 08
'Dear Richard, Words cannot describe how grateful we are for all you did for us leading up to our wedding and on the day. If anything went wrong during the wedding we certainly didn't know about it as you were always on hand for all the other staff that helped us on the day. You kept us and all our guests entertained with your great humour. Everyone commented on how wonderful you are and some even said they want you in the future for their weddings! It was a pleasure having you as one of our witnesses, the little hiccup we had the day before was calmed by you and we are so grateful that you went out of your way on the Sunday to support us with the final part of our wedding. You truly are a wonderful man.
Thank you for everything that you have done for us and we hope to see you soon.' Leanne and Marc Park Inn 30th June 07
'Richard, We'd both like to thank you very much for your participation at our wedding. You performed your toastmaster duties to the highest standard, and helped to ensure that our special day ran very smoothly. It meant that we could relax and totally enjoy the day, leaving all organisational aspects to you. We had a truly fantastic day and now have so many fond memories to cherish. We really cannot thank you and compliment you enough. Very best wishes' Sally and Nick Gosfield Hall 23rd May 07
'Thank you so much for being our Toastmaster at our wedding. As we always knew you would from the first time we met you, you went far above and beyond your duties on the day, taking all our demands and bizarre requests in your stride and ensuring that our day was absolutely perfect. We're even sure you must have had something to do with the glorious sunshine that shone just that one day that whole week. Our guests have since commented on how professional, yet fun you were to be around. We will have no hesitation in recommending you to any and all our friends for any future functions. Thank you once again from the bottom of both our hearts. Our eternal thanks.' Niki and Dean Layer Marney Tower 25th August 06
'This comes to say a very big thank you for all your hard work on our wedding day. Simon and I had a truly wonderful day and thanks to you it ran very smoothly. As I said on the day, it really is no wonder that you have a book of thank you cards - you really do deserve them! You made our day extra special, got the guests organised for some of the photos, and most importantly brought numerous drinks over to us during it al!! We had several guests comment on how well organised the day was and what a difference you made to it. Thank you again for all your work.' Gail and Simon Layer Marney Tower 23rd August 06
'We thought we would say a MASSIVE thank you for making our day the best day of our lives!!!! We know it sounds a bit soppy but you made everyone very relaxed and happy and it was an absolute pleasure for you to be at our wedding!!!! When looking at the pictures in the evening of the wedding everyone looks like they are having a fantastic time and that's all we really wanted - for everyone to have a memorable and happy day!!! You are a brilliant toastmaster and we both will highly recommend you. We all thought that you were very professional without being stuffy and too traditional. I have supplied a couple of photos of our wedding from our photographer as an attachment. Once again thank you so much for being our toastmaster!!!!! We hope to see you soon Richard!!!!!' Sonya and Mark Stock Brook Golf & Country Club 19th August 06
'Just a little note to say "thank you" so very much for making our wedding day so perfect. Shahram and I both felt totally relaxed, safe in the knowledge you had everything under control! All our guests were also very impressed with your prefessionalism. You worked extremely hard all day and it was very much noted. Hope to see you soon - with much love'
Helen and Shahram La Talbooth 16th September 06
'We just wanted to thank you again for all your hard work as toastmaster - you held our day together seemlessly and really think that without you it wouldn't have gone so well. Everything you did was so profesional and perfectly done - we can't thank you enough. Hopefully you had a good time as well - all our friends seem to, so hopefully a susscess all round!.' Krycher and Dan Spains Hall 18th November 06
'Thank you so much for being a fabulous toastmaster at our wedding. We couldn't have got through the day without you - you were brilliant and felt more like an old friend than our toastmaster. Our guests have all commented on how good you were and when I marry my next husband I will certainly ask you to be toastmaster!! You were worth every penny and cheap at twice the price! Thank You, Thank you, Thank you' Rachael and Andy Layer Marney Tower 1st December 06
To read more please visit www.thetoastmaster.co.uk
Your No. 1 Choice of Toastmaster -
Richard Palmer
Your first choice of toastmaster for your special occasion
If you would like your day to be fun and yet professionally managed, Richard would love to be with you to do whatever you need him to do and to the highest possible standard.

Richard will be your P.A., confidant, runner and toastmaster, or whatever you need him to be to give you the best day of your lives! It would be wrong for your toastmaster to tell you what you should have or do on your wedding day or special occasion, so whatever you need him to do, Richard is there for you!

Richard will always be pleased to help you with your enquiry and also happy to work anywhere in the world and at any type of function or occasion.

For further information please call

01245 222392 / 07971 409977

email info@thetoastmaster.co.uk

via Contact Form

Why choose me for your wedding day?

Richard.....

Lives weddings and will care for you at your wedding!

Cares about what he does for you and will do anything to make your day!

Works to the highest standards so that you are stress free on your day!

Loves weddings, especially yours - it will be his pleasure to look after you!

Passionate about the services he offers and therefore very careful to look after you and make sure that you get the best attention on your special day!

Flexible! Your wedding – Your way!

Offers the highest levels of service in the business, working in the way and style that you would like him to. Richard is young enough to be flexible - but old enough to be experienced!
There is no other toastmaster, worldwide that is more dedicated, enthusiastic, passionate, reliable, committed, professional and experienced as Richard. This means that you get the finest service that money can buy, to ensure that you have the day of your dreams!

Richard is proud of his reputation, and of being told that he is the premier service provider! Please visit my main web site www.thetoastmaster.co.uk

"I am proud of the testimonials that I have received!" Richard has hundreds, from clients that are happy to let others know why you should only use him!

Richard works full time in the wedding business and is totally dedicated to you, during your preparation for and on your wedding day.

Planning documentation that is world class, to ensure that he understands and is therefore able to carry out your instructions (ISO 9001:2008 certified) to give you the highest level of service available.
Richard will make your day! You will live your dreams!
How Richard can help you?

Richard is often asked what a toastmaster does on a wedding day. Outlined below are some of the duties Richard, as your toastmaster is happy to perform for you.

These duties may not be listed anywhere else and may vary from what other Toastmasters may offer you. This is by no means a complete or comprehensive list of his duties. If you want something different, Richard is pleased to make sure that you get what you want on your special day.

He will be pleased to carry out any duties and deal with any other issues as they arise in a calm, friendly and courteous manner and with a smile. Whatever Richard does as your toastmaster, his belief is that your wishes and expectations should be exceeded.

Some things that Richard has found that have pleased other brides and grooms are listed here as a guide, but please remember that Richard will do anything possible to make your day!
For your wedding ceremony or service

Attending the venue where your wedding ceremony is being held, even if this is at a different venue or in a different town (or country) to where your reception is being held.

Arriving early to liaise with your venue, (before your wedding party and guests arrive) and to make sure that all of your wishes have been realised and that everything is in order.

Helping your photographer and videographer throughout the day as and when needed. This generally also means making sure that your photographer and videographer know what is going to happen. This means that they will be in the right place before anything starts, thus ensuring that they capture every facet of your day perfectly.

Greeting your wedding party and guests and making them feel welcome and comfortable.
Helping with any details of final dress, which may include tying ties and or cravats and putting on buttonholes and corsages.

Putting your wedding party and guests at ease and helping to calm any last minute nerves.

Dealing with cards and presents as they arrive and letting your guests know if you have special arrangements for them.

Making sure that the bridegroom is in the right places at the right time and that your guests are also looked after and know what is happening and where they need to be.

Acting as an escort when appropriate.

Above all making sure that when you arrive, you are greeted and made to feel comfortable and reassured.

At your wedding reception
Helping with bouquets, flowers, bride's dress and anything else that needs attention.

Generally help by moving your wedding party and guests into the right places at the right times for photographs, wedding breakfast, entertainment or other events.

Looking after any guests with special needs whether it's an elderly guest or those with mobility problems.

Making sure that you have drinks and canapés at appropriate times and looking after you both when you are having your photographs taken.

Making sure that all your needs are catered for and that you are comfortable at all times.

Organising your receiving line so that everyone is in the right place at the right time without being made to feel rushed or pressured. Richard is renounced for fast and fun receiving lines, as a guide ten people per minute ie. 100 people takes ten minutes.

Making appropriate announcements as and when necessary.

Announcing the bride and bridegroom into the room for your wedding breakfast. Richard is renouned for stunning, lively and fun welcomes.

Making sure that your guest book is signed by all of your guests.

Helping with the arrangements for your meal, if you are having a buffet and need your guests to go to the table in a particular order. Carrying your food from the buffet, so that you are treated specially, and so that no food will get on your wedding dress.

Checking that the gifts and flowers to be given out during your speeches, are in the right place for you.

Announcing your speakers in the agreed order.

Making sure that if a public address system is being used, it is working and ready for use and that the speakers are comfortable with how it works.

Announcing and organising the cutting of the wedding cake.

Making sure that you are announced out of your banqueting room in the way that best suits you, if your room is being turned round for your evening function or if you are moving to another location for your evening party.

If you would like Richard to stay to announce your first dance, or organise your guests for your evening fireworks, he would be pleased to do so, but depending on timings, this may be at an additional cost.

Richard is really happy to do all that he can to make sure that you get an absolutely amazing and memorable day.
Photograph courtesy of Essex wedding photographer David Court www.courtoncamera.co.uk

This wedding was featured in An Essex Wedding magazine January/February 2008 issue.

The highlight of the brides day "My favourite part of the day was walking into the room for the wedding breakfast," remembers Terri. "Our toastmaster (Richard) had hyped up our guests, who gave us the best welcome. I will always remember that first time we were called Mr and Mrs Bearman".
For further information please call
01245 222392 / 07971 409977
email info@thetoastmaster.co.uk
Via Contact form
Last edited 13.44hrs Friday 11th July 2014
For Essex Wedding Professionals and Wedding Professionals in Essex see http://www.essexweddingprofessionals.co.uk
Photgraph courtesy of courtoncamera.co.uk
Richard is able to provide his services for the following type of events
In the capacity of toastmaster, MC, host, presenter. voiceover or auctioneer
at the following
Wedding Ceremonies
Civil Partnerships
Dinners
Fundraiser's
Corporate Events
Private Dinner Parties
Birthday Parties
Anniversary Parties
Garden Parties
Engagement Parties
Banquets
Balls
Conferences
Charity Events
Quiz Nights
Auctions
Award Ceremonies
Cocktail Receptions
Masonic Ladies Nights
Round Table Functions
Military & Regimental Functions
Rotary Events
Fashion Shows
Gala Receptions
Product Launches
Naming Ceremonies
Bar mitzvahs
Bat mitzvahs
and many more................
Just a FEW of the Essex venues Richard would be pleased to work
A A Western Dance Centre, Essex
Abridge Golf and Country Club - Essex
Apollonia Restaurant & Taverna, Essex
Arden House, Essex
Arodene House, Essex
A S Hotel Stansted Airport - Essex
Ashwells Sports & Country Club - Essex
Audley End House - Essex
Aviation Function Rooms, Essex
Balmoral Community Centre, Essex
Blake Hall - Essex
Bonningtons, Takeley - Essex
Boreham House - Essex
Braintree Town Hall - Essex
Brannigans, Essex
Braxted Park Estate - Essex
Bury Lodge - Essex
Canons Brook Golf Club, Essex
Channels Golf Club - Essex
Chelmsford Cathedral, Essex
Chigwell Manor Hall - Essex
Churchgate Manor Hotel - Essex
City Pavillion - Essex
Club Kingswood, Esses
Colchester Arts Centre - Essex
Colne Valley Golf Club - Essex
County Hall, Essex
County Hotel - Essex
Crabbs Barn - Essex
Creeksea Place - Essex
Cressing Temple - Essex
Cromwell Manor - Essex
Crondon Park Golf Club - Essex
Crown House, Saffron Waldon - Essex
De-Rougemont Manor - Essex
Down Hall Country House Hotel - Essex
Eastbury Manor House - Essex
Eastwood Community Centre, Essex
Epping Forest Country Hotel - Essex
Esplanade Hotel - Essex
Essex County Cricket Club, Essex
Essex County Hotel
Fennes Estate - Essex
Five Lakes Hotel - Essex
Forrester Park - Essex
Forte Posthouse - Essex
Friars Community Centre, Essex
Friern Manor Country House Hotel - Essex
Frinton on Sea cricket club - Essex
Furze Hill Banqueting Suite - Essex
Gants Hill, Essex
Gaynes Park Barns - Essex
Glades Restaurant, Essex
Gosfield Hall - Essex
Great Hallingbury Manor - Essex
Greenwoods Estate - Essex
Halfway House - Essex
Hedingham Castle - Essex
Heybridge Hotel - Essex
High Barn, Braintree - Essex
Holiday Inn Basildon - Essex
Holiday Inn Brentwood - Essex
Holiday Inn Colchester - Essex
Hollywood Restaurant - Essex
Hutton Poplars Hall - Essex
Hylands House - Essex
Ivy Hill Hotel - Essex
Jubilee Rooms at Civic Centre, Essex
Kings Park, Essex
Kingscliff Hotel, Southend - Essex
Kingsford Park Hotel - Essex
La Quinta - Essex
Lakeside Moat House, Essex
Lambourne Rooms & Town Hall, Essex
Langtons House, Essex
Layer Marney Tower -Essex
Le Talbooth Restaurant - Essex
Leez Priory - Essex
Little Easton Manor - Essex
Little Hallingbury Mill - Essex
Lords Golf & Country Club - Essex
Maidens Barn - Essex
Maison Renouf - Essex
Maison Talbooth Hotel - Essex
Marks Tey Hotel - Essex
Marygreen Manor Hotel - Essex
Maxims Casino, Southend, Essex
Maynetrees - Essex
Metropolitan Police (Chigwell) Sports Club - Essex
Moot House - Essex
Mount Avenue Banqueting Suite - Essex
Mulberry House - Essex
Newland Hall - Essex
Orsett Hall, Essex
Oysterfleet - Essex
Packfords Hotel, Woodford Green - Essex
Palms Hotel, Hornchurch - Essex
Park Hotel, Essex
Park Inn - Essex
Parklands, Quendon Hall - Essex
Parsonage Country House Hotel - Essex
Pentlow Tower - Essex
Pledgdon Barn - Essex
Pontlands Park Hotel - Essex
Porters, Essex
Prested Hall - Essex
Prince Regent Hotel, Woodford Bridge - Essex
Quality Hotel Epping - Essex
Ramada Hotel - Essex
Rayleigh Windmill - Essex
Regiment Way Golf Centre - Essex
Roebuck Hotel, Buckhurst Hill - Essex
Rose and Crown Hotel - Essex
SAS Hotel Stansted Airport, Essex
Saxon Hall - Essex
Saxon Hall, Southend - Essex
Shire Hall - Essex
Smeetham Hall Barn - Essex
South Church Hall Museum, Essex
South Lodge Hotel - Essex
Spains Hall, Essex
St Osyth Priory - Essex
Stansted Manor Hotel - Essex
Stock Brook Manor - Essex
Stoke by Nayland Golf Club, Essex
Sugar Hut Village - Essex
Swallow Churchgate Hotel - Essex
Thaxted Hall - Essex
The Barn Brasserie, Essex
The Belvedere - Essex
The Boatyard Restaurant, Essex
The Bull Hotel - Essex
The Chichester - Essex
The City Pavilion, Essex
The Coach House, Essex
The Compasses at Pattiswick - Essex
The County Hotel - Essex
The Cross Keys Hotel, Essex
The Crown House - Essex
The Eight Bells, Essex
The Essex Golf And Country Club - Essex
The Freight House, Essex
The Friary - Essex
The Green Man Hotel - Essex
The Heybridge Hotel, Essex
The Ivory Rooms - Essex
The Kingscliff Hotel - Essex
The Lawn - Essex
The Lodge, Essex
The Manor Hotel, Essex
The Old Rectory - Essex
The Pier At Harwich - Essex
The Red Lion, Essex
The Reid Rooms - Essex
The Rivenhall Hotel - Essex
The Room in The Rodings - Essex
The Saffron Hotel - Essex
The Saltings, Hockley - Essex
The Stables - Essex
The Thurrock Hotel, Essex
The Tower Hotel - Essex
The Warren Golf Club - Essex
The West Lodge, Upminster - Essex
The White Hart - Essex
The White Hart Hotel - Essex
The York Hotel, Essex
Three Rivers Golf and Country Club - Essex
Thurrock Masonic Hall, Essex
Top Meadow Country House, Essex
Town Hall - Essex
Town Hall Colchester
Unex Towerlands - Essex
Vaulty Manor - Essex
Victoria Court Bar, Essex
Waltham Abbey Marriott Hotel - Essex
Waterfront Place - Essex
Westcliff Hotel, Westcliff On Sea - Essex
Westwood Park - Essex
Whitehall Hotel - Essex
Wivenhoe House Hotel - Essex
Woodlands Country Hotel - Essex
Woolston Manor Golf Club - Essex