No. 1 Toastmaster
| Richard Palmer - Toastmaster
For further information please call
01245 222392 / 07971 409977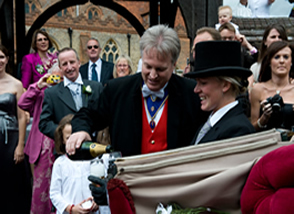 English Toastmaster pouring champagne for
the Bride and Groom at Great Baddow Church, Essex.
Photograph courtesy of Essex wedding photographer
David Court www.courtoncamera.co.uk
If you are getting married in or around Essex and are looking for an Essex wedding disco for your special day please contact -
The Classic Nomad Disco & Light Show Experience
for further details.
Contact the
No. 1 Toastmaster
For more details about our members or if you would like further information about Richard or about
please do not hesitate to contact Richard via
Visit The Toastmaster or The English Toastmasters Association web site
Tel: Mobile 07971 409977 - Office 01245 222392
email: info@thetoastmaster.co.uk
Based in Danbury, Essex CM2 7RY
Here are some countrywide wedding venues and hotels where our Toastmasters including Richard are happy to work. This is not a fully comprehensive list, but is meant as a guide to some of the venues that you may decide you would like an English Toastmaster to look after you.
22 Jermyn Street Hotel - London

Abbey Hill Golf Centre - Buckinghamshire

Abbey House Gardens - Wiltshire

Abbots Barton Hotel Canterbury - Kent
Abbotsley Hotel Golf and Country Club - Cambridgeshire
Abington Hall Conference Centre - Cambridgeshire
Abney Public Hall - London
Abode Canterbury - Kent
Acacia Hall - Kent
Ace Cafe London - London
Adam Street Private Members Club - London
Adcote School - Shropshire
Addington Palace - Surrey
Adlington Hall - Cheshire
AFC Bournemouth - Dorset
Airport House - London
Albrighton Hall Hotel - Shropshire
Alderley Edge Hotel - Cheshire
Aldermaston Manor Hotel - Berkshire
Aldridge Compass Suites - West Midlands
Aldwark Manor - North Yorkshire
Alexander House Hotel - West Sussex
Alexandra Palace - London
Alexandra Suite - Kent
Alfreton Hall - Derbyshire
Alicia Hotel - Merseyside
Allerton Castle - North Yorkshire
Allington Manor - Lincolnshire
Alton Grange Hotel - Hampshire
Alton House Hotel - Hampshire
Alverbank Country Hotel - Hampshire
Alverton Manor - Cornwall
Alveston House Hotel - Bristol
Alveston Manor Hotel - Warwickshire
Amberley Castle - Sussex
Angel Hotel - Lincolnshire
Anne Boleyn Hotel - London
Anne Of Cleves House - East Sussex
Ansty Hall Hotel - Warwickshire
Antoinette Hotel - Surrey
Appleby Manor Hotel - Cumbria
Ardencote Manor Hotel - Warwickshire
Ardington House - Oxfordshire
Arley Hall - Cheshire
Arlington Court - Devon
Armathwaite Hall - Cumbria
Arundel House - London
Arundel Town Hall - West Sussex
Ascot Racecourse - Berkshire
Ashdown Park Hotel - East Sussex
Ashford International Hotel - Kent
Ashridge House - Hertfordshire
Ashton Court Mansion - Bristol
Ashton Memorial - Lancashire
Ashwells Sports & Country Club - Essex
Aspull Civic Hall - Lancashire
Astley Bank Hotel - Lancashire
Astley Hall - Lancashire
Aston Hall Hotel - South Yorkshire
Aston Villa Football Club - West Midlands
Athelhampton House - Dorset
Athena Palace - London
Atlantic Hotel - Cornwall
Atlantic Hotel - Chelmsford - Essex
Auckland Castle - County Durham
Audley End House - Essex
Augill Castle - Cumbria
Auriol Kensington Rowing Club - London
Avington Park - Hampshire
Avon Gorge Hotel - Bristol
Avonmouth Hotel - Dorset
Aylesbury House Hotel - Warwickshire
Babington House - Somerset
Baddesley Clinton - Warwickshire
Badgemore Park Golf Club - Oxfordshire
Bagden Hall - West Yorkshire
Bailbrook House - Somerset
Bailiffscourt Hotel & Health Spa - West Sussex
Bank House Hotel - Worcestershire
Bank of England Sports Centre - London
Banwell Castle - Somerset
Barbican Centre - London
Barcelo Blackpool Imperial Hotel - Lancashire
Barn Hotel - Middlesex
Barnham Broom Hotel & Golf Club - Norfolk
Barns Hotel - Bedfordshire
Barnsdale Hall Hotel - Rutland
Barnsdale Lodge Hotel - Rutland
Barnsgate Manor - East Sussex
Barnsley House - Gloucestershire
Barrowfield Hotel - Cornwall
Bartholomew Barn - West Sussex
Bartle Hall - Lancashire
Bartle Hall Hotel - Lancashire
Bartley Lodge Hotel - Hampshire
Barton Grange - Lancashire
Bartons Mill Restaurant - Hampshire
Basildon Park - Berkshire
Basingstoke Country Hotel - Hampshire
Bass Museum - Staffordshire
Bassetsbury Manor - Buckinghamshire
Batchwood Hall Nightclub - Hertfordshire
Battersea Arts Centre - London
Bawdsey Manor - Suffolk
Baylis House - Berkshire
Beacon Crag - Cornwall
Beadlow Manor Golf And Country Club - Bedfordshire
Beamish Hall Country House Hotel - County Durham
Beamish Park Hotel - Tyne & Wear
Bear Hotel Hungerford - Berkshire
Bearwood Lakes Golf Club - Berkshire
Beauberry House - London
Beckford Inn Hotel - Gloucestershire
Bedern Hall - North Yorkshire
Bedford Hotel - Lancashire
Bedford Lodge Hotel - Suffolk
Bedruthan Steps - Cornwall
Beechdown - Hampshire
Belfry House Hotel - Cheshire
Bell Hotel Sandwich - Kent
Belle Epoque Brasserie - Cheshire
Bellhouse Hotel - Buckinghamshire
Belmont House Hotel - Leicestershire
Belstead Brook Hotel - Suffolk
Belton House - Lincolnshire
Belvoir Castle - Leicestershire
Belvoir Castle - Lincolnshire
Benefield Wheatsheaf - Northamptonshire
Beningbrough Hall - North Yorkshire
Bennetts Water Gardens - Dorset
Berkeley Castle - Gloucestershire
Berrington Hall - Herefordshire
Best Western - Kent
Best Western - Le Strange Arms Hotel - Norfolk
Best Western - The Brighton Hotel - East Sussex
Best Western Churchill Hotel - Kent
Best Western Cresta Court Hotel - Manchester
Best Western Donnington Manor Hotel - Kent
Best Western Elton Hall Rotherham - South Yorkshire
Best Western Guide Post Hotel - West Yorkshire
Best Western Hotel Smokies - Lancashire
Best Western Ivy Hill Hotel Margaretting Chelmsford - Essex
Best Western Lee Wood Hotel - Derbyshire
Best Western Monkbar Hotel York - North Yorkshire
Best Western Mosborough Hall Hotel - South Yorkshire
Best Western Reading Moat House - Berkshire
Best Western Russell Hotel - Kent
Best Western Ufford Park Hotel Golf & Leisure - Suffolk
Best Western Whitworth Hall Hotel - County Durham
Beverley Arms Hotel - East Yorkshire
Bibury Court - Gloucestershire
Bickleigh Castle - Devon
Bickley Manor Hotel & Restaurant - Kent
Billesley Manor - Warwickshire
Bina Banqueting Hall - London
Bindon County House - Somerset
Birkin House - Dorset
Birmingham Botanical Gardens - Mildlands
Birmingham Cathedral - Mildlands
Birmingham City Football Club - Mildlands
Birmingham Marriott Hotel - West Midlands
Birtsmorton Court - Worcestershire
Birtsmorton Court Ltd - Worcestershire
Bisham Abbey - Buckinghamshire
Bishops Court - Dorset
Bishopswood House - Herefordshire
Bishton Hall - Staffordshire
Black Lion Hotel - Suffolk
Blackbrook House - Derbyshire
Blackburn Cathedral - Lancashire
Blackmore Farm - Somerset
Blackpool De-Vere Hotel - Lancashire
Blackwell Grange - County Durham
Blake Hall - Essex
Blakelands Country House - Staffordshire
Blakes Hotel - London
Blazing Donkey Country Hotel - Kent
Blenheim Palace - Oxfordshire
Blickling Hall - Norfolk
Blooms Town House Hotel - London
Blue Hayes - Cornwall
Blue Mountain - Berkshire
Bluebells Restaurant - Berkshire
Bluebird - London
Boconnoc Estate - Cornwall
Bolebroke Castle - East Sussex
Bolholt Country Park Hotel - Lancashire
Bolsover Castle - Derbyshire
Bolton Register Office - Lancashire
Boreham House Boreham Chelmsford - Essex
Boscundle Manor - Cornwall
Bossard House - Bedfordshire
Bossington House - Hampshire
Bosworth Hall - Warwickshire - Warwickshire
Botleigh Grange - Hampshire
Boughton Monchelsea Place - Kent
Bourne Hall - Surrey
Bournemouth Highcliff Marriott Hotel - Dorset
Bournemouth Register Office - Dorset
Bovey Castle - Devon
Bowers Hotel - Lancashire
Bowood Golf and Country Club - Wiltshire
Bradenham Manor - Buckinghamshire
Bradford Cathedral - West Yorkshire
Bradford City Football AFC - West Yorkshire
Bradley House - Wiltshire
Bradley Way - Essex
Bramhall Hall - Cheshire
Bramham Park - West Yorkshire
Brampton Grange Estates Ltd - Northamptonshire
Brandon Hall Hotel - Warwickshire
Brandshatch Place Hotel & Spa - Kent
Branston Hall - Lincolnshire
Brasteds - Norfolk
Braxted Park Estate - Essex
Breadsall Priory Hotel & Country Club - Derbyshire
Bredbury Hall Hotel & Country Club - Cheshire
Bretton Hall College - South Yorkshire
Brick Lane Music Hall - London
Bridge House - Dorset
Brilliant Restaurant - London
Bristol Cathedral - Bristol
Bristol Filton - Bristol
Bristol Zoo - Bristol
Britannia Adelphi Hotel - Liverpool - Merseyside
Britannia Airport Hotel - Northenden Manchester - Manchester
Britannia Ashley Hotel - Hale Manchester - Cheshire
Britannia Bournemouth Hotel - Dorset
Britannia Country House Hotel - Manchester - Manchester
Britannia Hotel Birmingham - Midlands
Britannia Hotel Coventry - Midlands
Britannia Hotel Manchester - Manchester
Britannia Hotel Newcastle Airport - Tyne & Wear
Britannia Hotel Stockport - Cheshire
Britannia Hotel Wolverhampton - Midlands
Britannia Nottingham - Nottinghamshire
Britannia Stadium - Staffordshire
Britannia Wigan Hotel - Wigan - Lancashire
British Academy of Film and Television Arts - London
British Airways London Eye - Wedding Venue - British Airways London Eye - London
Broadfield Court Estate - Herefordshire
Broadoaks Country House - Cumbria
Broadway Hotel - Worcestershire
Brocket Hall - Hertfordshire
Brocket Hall - Hertfordshire
Brodsworth Hall Doncaster - South Yorkshire
Bromsgrove Hotel - Worcestershire
Brook Meadow Hotel - Cheshire
Brookfield Golf Club - Cheshire
Brookfield Hotel - Hampshire
Brooklands Hotel Barnsley - South Yorkshire
Brooksby Hall - Leicestershire
Browns Courtrooms - London
Brownsover Hall Hotel - Warwickshire
Broxton Hall - Cheshire
Bruce Castle Museum - London
Buckinghamshire Golf Club - Buckinghamshire
Buckland-Tout-Saints Hotel - Devon
Buddock Vean Hotel - Cornwall
Buile Hill Banqueting Suite - Manchester
Bull Hotel - Cambridgeshire
Burcombe Manor - Wiltshire
Burgh Island Hotel - Devon
Burghley House - Lincolnshire
Burley Manor - Hampshire
Burn Hall - North Yorkshire
Burnby Hall Gardens - North Yorkshire
Burton Court - Herefordshire
Bush Hill - Hertfordshire
Bushey Hall Golf Club - Hertfordshire
Butley Priory - Suffolk
Buxted Park Country House - East Sussex
Buxton Pavilion Gardens - Derbyshire
Bylaugh Hall - Norfolk
Cadbury House Country Club - Bristol
Cafe De Paris - London
Cafe Royal - London
Cain Manor - Hampshire
Caistor Hall - Norfolk
Calcot Hotel - Berkshire
Calcot Manor Hotel - Gloucestershire
Caledonian Hotel - Tyne & Wear
Cambridge Corn Exchange - Cambridgeshire
Cambridge Garden House - Cambridgeshire
Cambridgeshire Moat House - Cambridgeshire
Cameley Lodge - Bristol
Canterbury Cathedral - Kent
Cape Cornwall Golf Club - Cornwall
Capesthorne Hall - Cheshire
Carden Park Hotel - Cheshire
Careys Manor Hotel - Hampshire
Carlisle Cathedral - Cumbria
Carlton Club - London
Carlton Park Hotel Rotherham - South Yorkshire
Carlton Towers - East Yorkshire
Carnglaze Caverns - Cornwall
Carriage House Hotel - Bedfordshire
Castle Ashby - Northamptonshire
Castle Howard - North Yorkshire
Castle Mona Hotel - Douglas - Isle of Man
Cave Castle Hotel - East Yorkshire
Cave Castle Hotel - East Yorkshire
Cavendish Hotel - East Sussex
Caverswall Castle - Staffordshire
Cedar Court Hotel Harrogate - North Yorkshire
Cedar Court Hotel Huddersfield Halifax - North Yorkshire
Cedar Court Hotel Leeds Bradford - West Yorkshire
Cedar Court Hotel Wakefield - North Yorkshire
Celtic Hotel - London
Century - London
Century Club - London
Chalk Farm Hotel - East Sussex
Chalk Lane Hotel - Surrey
Chancellors Hotel - Manchester
Chandos House - London
Channels Golf Club Chelmsford - Essex
Chantmarle Manor - Dorset
Charlecote Park - Warwickshire
Charlton Athletic Fc Limited - London
Charlton House - Somerset
Charlton House - London
Chart Hills Golf Club - Kent
Chartwell - Kent
Chatsworth House - Derbyshire
Chelmsford Cathedral - Essex
Chelsea Football Club - London
Chelsea Old Town Hall - London
Chenies Manor House - Buckinghamshire
Chequers Inn - Buckinghamshire
Cherwell Edge Golf Club - Oxfordshire
Chesford Grange (QHotels) - Warwickshire
Cheshunt Marriott Hotel - Hertfordshire
Chester Cathedral - Cheshire
Chester Racecourse - Cheshire
Chester Zoo - Cheshire
Chettle House - Dorset
Chevin Country Park Hotel - West Yorkshire
Chewton Glen Country House - Hampshire
Chewton Place - Bristol
Chicheley Hall - Buckinghamshire
Chichester Cathedral - Hampshire
Chiddingstone Castle - Kent
Chilford Hall Vineyard - Cambridgeshire
Chilston Park Country House Hotel - Kent
Chilworth Manor - Hampshire
China Fleet Country Club - Cornwall
Chippenham Lodge Estate - Cambridgeshire
Chiswick - London
Christmas Hall - Suffolk
Churchill Hotel York - North Yorkshire
Chutney Mary - London
Chy an Albany Hotel - Cornwall
Civic Hall - Saddleworth - Cheshire
Clandon Park - Surrey
Claremont Hotel - Douglas - Isle of Man
Clarendon Hotel - Lancashire
Clarendon Hotel - Kent
Clarion Hotel - Shropshire
Clarion Hotel & Suites Foxfields - Lancashire
Clay House Park - West Yorkshire
Claydon House - Buckinghamshire
Clearwell Castle - Gloucestershire
Cleve Hotel and Country Club - Somerset
Cley Windmill - Norfolk
Cliveden - Buckinghamshire
Clovelly Estate Company - Devon
Clowance Estate and Country Club - Cornwall
Clumber Park - Nottinghamshire
Coltsford Mill - Surrey
Colwick Hall Hotel - Nottinghamshire
Combe Bank School - Kent
Combe Grove Manor - Somerset
Combe House - Devon
Comfort Inn - Lancashire
Congham Hall Country House Hotel - Norfolk
Coniston Hall - North Yorkshire
Conningbrook Hotel - Kent
Consort Hotel - South Yorkshire
Cooling Castle Barn Ltd - Kent
Coombe Abbey - Warwickshire
Coombe Barton Inn - Cornwall
Coombe Lodge - Somerset
Coppid Beech Hotel - Berkshire
Copthorne Effingham Park Hotel - West Sussex
Corus Hotel Solihull - West Midlands
Cotehele House - Cornwall
Cotham Parish Church - Bristol
Cottesmore Golf & Country Club - West Sussex
Cottons Hotel & Spa - Cheshire
Coughton Court - Warwickshire
Country House Hotel - Oxfordshire
County Ground - Mildlands
County Hall - Chelmsford - Essex
County Hotel Chelmsford - Essex
Court Stairs Country Club - Kent
Courteenhall Estate - Northamptonshire
Courtyard by Marriot Milton Keynes - Buckinghamshire
Courtyard by Marriott Hotel Rotherham - South Yorkshire
Courtyard by Marriott Tong - West Yorkshire
Coventry Cathedral - Warwickshire
Coventry Hill Hotel - Coventry - Midlands
Cowdray Walled Garden - West Sussex
Crabbs Barn Kelvedon - Essex
Crabwall Manor Hotel - Cheshire
Craiglands Hotel - North Yorkshire
Cranleigh Golf and Leisure Club - Surrey
Crathorne Hall Hotel - North Yorkshire
Creeksea Place Burnham on Sea - Essex
Cressbrook Hall - Derbyshire
Cricket St Thomas - Somerset
Cricklade Hotel and Country Club - Wiltshire
Cripps Barn - Gloucestershire
Crockstead Hotel & Conference Centre - East Sussex
Crockwell Farm - Northamptonshire
Croft Hotel - Kent
Crondon Park Stock - Essex
Crosby Lodge Country House - Cumbria
Crowcombe Court - Somerset
Crown Hotel - Hampshire
Crown Hotel Bawtry - South Yorkshire
Crowne Plaza - West Yorkshire
Crowne Plaza London - Docklands - London
Crowne Plaza London - The City - London
Croydon Clock Tower - London
Crucible Theatre - South Yorkshire
Crudwell Court Hotel - Wiltshire
Cubley Hall Hotel - South Yorkshire
Culeaze House - Dorset
Cumberwell Park - Wiltshire
Curradine Barns - Worcestershire
Custom House - Dorset
Cutlers Hall - South Yorkshire
Cutlers Hall Sheffield - South Yorkshire
Dale Hill Hotel - East Sussex
Dalhousie Castle - Edinburgh
Danesfield House Hotel & Spa - Buckinghamshire
Danum Hotel - South Yorkshire
Danum Hotel Doncaster - South Yorkshire
Dartington Hall - Devon
Davenport House - Shropshire
De La Warr Pavilion - East Sussex
De Rougemont Manor Warley - Essex
De Vere - Belton Woods Hotel - Lincolnshire
De Vere - Highfield Park - Hampshire
De Vere - Latimer House - Buckinghamshire
De Vere - Northcote House - Berkshire
De Vere - Theobalds Park - Hertfordshire
De Vere - University Arms Hotel - Cambridgeshire
De Vere Grand Hotel - Hampshire
De Vere Whites Hotel - Lancashire
Deal Castle - Kent
Deal Town Hall - Kent
Dean Court Hotel York - North Yorkshire
Deans Place Hotel - East Sussex
Deans Place Hotel - East Sussex
Deanwater Hotel - Cheshire
Delbury Hall - Shropshire
Denbies Vineyard - Surrey
Derby Cathedral - Derbyshire
Devonshire Arms Bolton Abbey Skipton North Yorks - North Yorkshire
Didsbury House Hotel - Manchester
Dissington Hall - Tyne & Wear
Doddington Hall - Lincolnshire
Dodmoor House - Northamptonshire
Doncaster Racecourse and Exhibition Centre - South Yorkshire
Donington Manor Hotel - Derbyshire
Donnington Valley Hotel and Golf Club - Berkshire
Dorchester Municipal Buildings - Dorset
Dormy House Hotel - Worcestershire
Dover Castle - Kent
Down Hall Country House Hotel - Essex
Dukes Hotel - London
Dukinfield Town Hall - Cheshire
Dunchurch Park Hotel - Warwickshire
Duncombe Park - North Yorkshire
Duncton Mill - West Sussex
Dunsley Hall Country House Hotel - North Yorkshire
Dunster Castle - Somerset
Durham Castle - County Durham
Durham Cathedral - County Durham
Durley Hall Hotel & Spa - Dorset
Duxford Lodge - Cambridgeshire
Dyrham Park - Gloucestershire
East Court - West Sussex
East Horton Golf Centre - Nothamptonshire
East Lodge Hotel - Derbyshire
East Riddlesden Hall - West Yorkshire
Easthampstead Park Conference & Banquetting Centre - Berkshire
Eastlands Estate - West Sussex
Eastwell Manor - Kent
Eastwell Park Boat House - Kent
Eastwood Park - Gloucestershire
Eccleston Park Golf Club - Merseyside
Edgcumbe Hotel - Cornwall
Edmondsham House - Dorset
Egerton House Hotel - Lancashire
Elcot Park Hotel and Resort - Berkshire
Elderton Lodge - Norfolk
Elme Hall Hotel - Cambridgeshire
Elvaston Castle - Derbyshire
Englemere - Berkshire
Epsom Downs Racecourse - Surrey
Escot Country Park and Gardens - Devon
Esplanade Hotel - Essex
Esseborne Manor - Hampshire
Etchinghall Golf Club - Kent
Etrop Grange - Manchester
Ettington Park Hotel - Warwickshire
Europa Hotel - Maidenbower - West Sussex
Everglades Park Hotel - Cheshire
Eversholt Hall - Bedfordshire
Everton Football Club - Merseyside
Exceat Farmhouse - East Sussex
Exeter Cathedral - Devon
Explosion Museum - Hampshire
Eyam Hall - Derbyshire
Eynshan Hall - Oxfordshire
Wedding Venue registered for civil ceremonies - Eypes Mouth Country Hotel - Dorset
Falcon Hotel - Cornwall
Fallow Fields - Oxfordshire
Fallowfields Country House Hotel - Oxfordshire
Fallowfields Country House Hotel - Oxfordshire
Falmouth Beach Resort - Cornwall
Fanhams Hall Hotel Ware - Hertfordshire
Farbridge - West Sussex
Farnham Castle - Surrey
Farnham House Hotel - Surrey
Farringford Hotel - Isle of Wight
Fawsley Hall - Northamptonshire
Feathers Hotel - Herefordshire
Fell Foot Park - Cumbria
Fields Farm Marquee & Venue - Staffordshire
Finchcocks - Kent
Fischers Baslow Hall - Derbyshire
Fishponds House Hotel - Devon
Fistral Blu - Cornwall
Five Lakes Resort - Essex
Flackley Ash Hotel and Restaurant - East Sussex
Flitwick Manor - Bedfordshire
Folio Hotels Westfield House - Leicestershire
Fonmon Castle - Wiltshire
Fontwell Park Racecourse - West Sussex
Forbes House - London
Forde Abbey - Somerset
Forest and Vale Hotel - North Yorkshire
Formby Hall Golf Club PLC - Merseyside
Forrester Park - Essex
Forte Posthouse - Warwickshire
Forty Hall - Middlesex
Fountains Abbey & Studley Royal - North Yorkshire
Fountains Abbey & Studley Royal Water Garden - North Yorkshire
Four Pillars Hotel - Abingdon - Oxfordshire
Four Pillars Hotel - Oxford Spires - Oxfordshire
Four Pillars Hotel - Thames - Oxfordshire
Four Pillars Hotel - Witney - Oxfordshire
Four Seasons Canary Wharf - London
Fowey Hall Hotel - Cornwall
Fownes Hotel - Worcestershire
Fox and Hounds Country Hotel - Devon
Friars Court - Oxfordshire
Friday Island Weddings - Gloucestershire
Friern Manor Country House - Essex
Furze Hill Margaretting Chelmsford - Essex
Gads Hill Place - Kent
Gainsborough House Hotel - Worcestershire
Gara Rock Hotel - Devon
Garstang Country Hotel & Golf Club - Lancashire
Garston Manor - Hertfordshire
Gatwick Manor - West Sussex
Gawsworth Hall - Cheshire
Gawthorpe Hall - Lancashire
Gaynes Park Barns Gaynes Park - Essex
George Hotel - Cumbria
George Washington Hotel and Golf Club - Tyne & Wear
Georgian House Hotel - Surrey
Gibbon Bridge Hotel - Lancashire
Glaziers Hall - London
Gloucester Cathedral - Gloucestershire
Gloucestershire County Cricket Club - Gloucestershire
Godolphin Arms - Cornwall
Goldsborough Hall - North Yorkshire
Goldstone Hall Hotel - Shropshire
Gondola - Cumbria
Gonville Hotel - Cambridgeshire
Goodwood House - West Sussex
Goodwood Racecourse Limited - West Sussex
Goring Hotel - London
Gorse Lodge - Lincolnshire
Gosfield Hall - Essex
Grains Bar Hotel - Lancashire
Grand Burstin Hotel - Folkestone - Kent
Grand Hotel - Warwickshire
Grand Island Hotel - Ramsey - Isle of Man
Grand Metropole Hotel - Blackpool - Lancashire
Grand St Leger Hote - South Yorkshire
Grange Moor Hotel - Kent
Grantham Marriott Hotel - Lincolnshire
Grants Mill and Garden - Somerset
Great Fosters Egham- Surrey
Great House at Sonning - Berkshire
Great Tythe Barn - - Gloucestershire
Great Victoria - West Yorkshire
Great Yarmouth Racecourse - Norfolk
Green Lawns Hotel - Cornwall
Greenwoods Stock - Essex
Gresham Court Hotel - Dorset
Greys Court - Oxfordshire
Grimstock Country House Hotel - Warwickshire
Grinkle Park Hotel - North Yorkshire
Grittleton House - Wiltshire
Grosvenor Pulford Hotel & Spa - Cheshire
Grosvenor Pulford Hotel Ltd - Cheshire
Grove Ferry Inn - Kent
Grove House Hotel - Merseyside
Grovefield Hotel - Buckinghamshire
Guildford Cathedral - Surrey
Guyers House - Wiltshire
Habrough Hotel - Lincolnshire
Hadley Park House - Shropshire
Hadlow Manor Hotel - Kent
Haigh Hall - Lancashire
Haighton Manor Country House Hotel - Lancashire
Haldon Belvedere - Devon
Haleys - West Yorkshire
Haleys Hotel - West Yorkshire
Hall Place & Gardens - London
Hallgarth Golf and Country Club Hotel - County Durham
Hallgarth Manor - County Durham
Halls Croft - Warwickshire
Halswell House - Somerset
Ham House - Surrey
Hambleton Hall - Rutland
Hampden House - Buckinghamshire
Hampstead Britannia Hotel - London - London
Hampton Court Palace Golf Club - Middlesex
Hamptworth Estate - Wiltshire
Hanbury Hall - Worcestershire
Hanbury Manor Hotel & Country Club - Hertfordshire
Harbour Heights - Dorset
Hare and Hounds Hotel - Gloucestershire
Harewood House - Vistas - West Yorkshire
Harrogate International Centre - North Yorkshire
Hartham Park - Wiltshire
Hartland Abbey - Devon
Hartlip Place - Kent
Harts Hotel - Nottinghamshire
Hartwell House Hotel Restaurant & Spa - Buckinghamshire
Haselbury Mill - Somerset
Hassop Hall - Derbyshire
Hatfield House - Hertfordshire
Hatherley Manor Hotel - Gloucestershire
Hatswell Meadows - Devon
Hatton Court Hotel - Buckinghamshire
Hatton Village Hall - Warwickshire
Haughley Park Barns - Suffolk
Haughton Hall Hotel - Shropshire
Hawkstone Park Hotel - Shropshire
Hawkwell House Hotel - Oxfordshire
Haworth Art Gallery - Lancashire
Hazlewood Castle - North Yorkshire
Headlam Hall - County Durham
Headley Park Hotel - Hampshire
Healds Hall Hotel - West Yorkshire
Heath Cottage Hotel - North Yorkshire
Heatherden Hall at Pinewood Studios - Buckinghamshire
Heathlands Hotel - Dorset
Heaton Hall - Manchester - Manchester
Heaton House Farm - Cheshire
Heckfield Place - Berkshire
Hedingham Castle - Essex
Hedsor House - Buckinghamshire
Hellaby Hall Hotel - South Yorkshire
Hempstead House - Kent
Hemswell Court - Lincolnshire
Henley Management College - Oxfordshire
Hereford Cathedral - Herefordshire
Hereford Racecourse - Herefordshire
Hertford Castle - Hertfordshire
Hestercombe House - Somerset
Hever Castle Golf Club - Kent
Hever Castle Tudor Village - Kent
Hey Green Hotel - West Yorkshire
Heythrop Park - Oxfordshire
High Barn - Essex
Highbury Hall - Mildlands
Highcliffe Castle - Dorset
Highdown Towers - West Sussex
Highfield Hotel - North Yorkshire
Highgate House - Northamptonshire
Hillbark Hotel - Merseyside
Hilltop Hotel - Kent
Hilton Dartford Bridge - Kent
Hilton Hotel Newbury Centre - Berkshire
Hilton Leicester - Leicestershire
Hilton London Docklands Riverside - London
Hilton Maidstone - Kent
Hilton Warwick Hotel - Warwickshire
Hinchingbrooke House - Cambridgeshire
Hind Hotel - Northamptonshire
Hintlesham Hall Hotel - Suffolk
Hitchin Priory - Hertfordshire
HM Bark Endeavour - Cleveland
HMS Warrior 1860 - Hampshire
Hodsock Priory - Nottinghamshire
Hoghton Tower - Lancashire
Holbrook House Hotel and Spa - Somerset
Holdenby House - Northamptonshire
Holdsworth House - West Yorkshire
Holiday Inn - South Yorkshire
Holiday Inn - London Regents Park - London
Holiday Inn Ashford - Central - Kent
Holiday Inn Ashford North (A20) - Kent
Holiday Inn Bolton Centre - Manchester
Holiday Inn Brentford Lock - Middlesex
Holiday Inn Brentwood - Essex
Holiday Inn Corby Kettering A43 - Northamptonshire
Holiday Inn Coventry - South - West Midlands
Holiday Inn Doncaster - South Yorkshire
Holiday Inn Fareham - Hampshire
Holiday Inn Ipswich - Orwell - Suffolk
Holiday Inn Leamington Spa - Warwick - Warwickshire
Holiday Inn Leeds - Bradford - West Yorkshire
Holiday Inn Leeds Garforth - West Yorkshire
Holiday Inn Maidstone - Kent
Holiday Inn Northampton - Northamptonshire
Holiday Inn Northampton - Northamptonshire
Holiday Inn Norwich - Norfolk
Holiday Inn Sheffield - South Yorkshire
Holland Inn Hotel - Cornwall
Hollin Hall Hotel - Cheshire
Holling Hall Hotel Baildon Bradford - North Yorkshire
Hollins Hey Hotel - Merseyside
Hollywood Restaurant - Essex
Holme Lacy House Hotel - Herefordshire
Holme Pierrepont Hall - Nottinghamshire
Holton Lee - Dorset
Homewood Park - Somerset
Homme House - Herefordshire
Honiley Court Hotel - Warwickshire
Honourable Society of Grays Inn - London
Hooke Court - Dorset
Hoole Hall Hotel - Cheshire
Hop Farm Country Park - Kent
Hornsbury Mill - Somerset
Horsebridge Station - Hampshire
Horsley Lodge - Derbyshire
Horsted Place - East Sussex
Horton Grange Hotel - Northumberland
Hotel California - Cornwall
Hotel du Vin & Bistro - Hampshire
Hotel Elizabeth Copdock - Suffolk
Hotel Felix - Cambridgeshire
Hotel Hatfield - Suffolk
Hotel Miramar - Dorset
Hotel Riviera - Cornwall
Hotel Rudyard - Staffordshire
Hotel Russell - London
Hotel Tresanton - Cornwall
Hotel Victoria - Cornwall
Hothorpe Hall - Leicestershire
Howfield Manor - Kent
Hoyle Court - West Yorkshire
Hughenden Manor - Buckinghamshire
Hulme Hall - Merseyside
Hundred House Hotel - Shropshire
Hunstrete House Hotel - Bristol
Hunters Hall - Norfolk
Hunters Lodge Hotel - Cheshire
Hunting Lodge Hotel - Leicestershire
Huntsham Court - Devon
Huntstile Organic Farm - Somerset
Hustyns Leisure - Cornwall
Hutton Poplalrs Hall Brentwood - Essex
Huyton Suite - Merseyside
Hyatt Regency Birmingham - West Midlands
Hydro Hotel PLC - East Sussex
Hylands House Chelmsford - Essex
Ickworth House - Suffolk
Imperial College London Wye - Kent
Imperial Hotel Torquay - Devon
Imperial War Museum Duxford - Cambridgeshire
Inglewood Hotel - Cheshire
Ingon Manor Hotel Golf and Country Club - Warwickshire
Inn at Woburn - Bedfordshire
Inn on the Lake - Kent
Inn on the Lake - Cumbria
Ironbridge gorge Museums - Shropshire
Ironmongers' Hall - London
Ivy Hill Hotel Margaretting Chelmsford - Essex
Ivy House Country Hotel - Suffolk
Izaak Walton Hotel - Derbyshire
J.J.B. Stadium - Manchester
Jarvis Cooden Beach Hotel - East Sussex
Jarvis Piccadilly Hotel - Manchester
Jeremys - West Sussex
Jesmond Dene House - Tyne & Wear
Judges Hotel - North Yorkshire
Julie Rose Stadium - Kent
Jumeirah Carlton Tower - London
Jurys Great Russell Street Hotel - London
Kedleston Hall - Derbyshire
Kelham Hall - Nottinghamshire
Kempton Park Racecourse - Middlesex
Kendleshire Golf Club - Bristol
Kent National Golf Club Brenchley - Kent
Kersey Mill - Suffolk
Kettering Park Hotel & Spa - Northamptonshire
Kew at Castle Howard - North Yorkshire
Kew Bridge Steam Museum - London
Royal Botanic Gardens - Kew Gardens - Surrey
Killerton House - Devon
Kilnwick Percy Golf Club - North Yorkshire
Kilworth House Hotel - Leicestershire
Kingfisher Country Club - Buckinghamshire
Kings Croft Hotel - West Yorkshire
Kingston Bagpuize House - Oxfordshire
Kingston Country Courtyard - Dorset
Kingston Estate - Devon
Kingston Lacy House - Dorset
Kingston Maurward House - Dorset
Kingsway Hall Hotel - London
Kirkley Hall College - Northumberland
Kirtlington Park - Oxfordshire
Kitley House - Devon
Kits Coty - Kent
Knavesmire Manor Hotel - North Yorkshire
Knebworth House - Hertfordshire
Knife & Cleaver - Bedfordshire
Knowle Country House - Kent
Knowlton Court - Kent
Knowsley Hall - Merseyside
La Pergola Saddleworth - Lancashire
Lace Market Hotel - Nottinghamshire
Lackham Countryside Centre - Wiltshire
Lains Barn - Oxfordshire
Lainston House - Hampshire
Lakeside - Devon
Lands End Hotel - Cornwall
Langar Hall Hotel - Nottinghamshire
Langdale Chase Hotel - Cumbria
Langham Hotel - East Sussex
Langley Castle Northumberland - Northumberland
Langley Hotel - Kent
Langley Priory - Derbyshire
Langrish House - Hampshire
Langstone Cliff Hotel - Devon
Langton House - Essex
Langtry Manor - Dorset
Lanteglos Hotel - Cornwall
Larmer Tree Gardens - Wiltshire
Last Drop Village - Lancashire
Laughton Barns - East Sussex
Layer Marney Tower - Essex
Lazaat Restaurant Bar Hotel - East Yorkshire
Le Gothique - London
Le Manoir Aux Quat Saisons - Oxfordshire
Le Manoir aux Quat Saisons - Oxfordshire
Le Meridien Piccadilly - London
Le Talbooth Dedham - Essex
Lea Marston Hotel - Warwickshire
Leander Club - Oxfordshire
Leas Cliff Hall - Kent
Leasowe Castle Hotel - Merseyside
Lee Bay Hotel - Devon
Leeds Castle - Kent
Leeds Marriott Hotel - West Yorkshire
Leeds Seventeen Suites - West Yorkshire
Leeds United Conference & Banqueting Centre - West Yorkshire
Leeds United Conference Centre - West Yorkshire
Leez Priory - Essex
Leicester Cathedral - Leicestershire
Leicester Marriott Hotel - Leicestershire
Leigh Park Hotel - Wiltshire
Leighton Hall - Shropshire
Leighton Hall - Lancashire
Leiston Abbey - Suffolk
Leiths at Beaulieu - Hampshire
Leiths Event Team - London
Lensbury - Middlesex
Leopold Hotel - South Yorkshire
Les Bouviers - Dorset
Lewes Castle - East Sussex
Lewtrenchard Manor - Devon
Football Stadium and Wedding Venue - Licensed Wedding ceremonies and receptions - London
Lichfield Cathedral - Staffordshire
Life Conference & Banqueting - Tyne & Wear
Life Conference & Banqueting - Tyne & Wear
Lillibrooke Manor - Berkshire
Limpley Stoke Hotel - Somerset
Lincoln Cathedral - Lincolnshire
Linden Hall - Northumberland
Linthwaite House Hotel - Cumbria
Linton Springs Hotel - West Yorkshire
Lion and Swan Hotel - Cheshire
Lion Quays Hotel - Shropshire
Liscombe Park House - Bedfordshire
Lismoyne Hotel - Hampshire
Little Bidlake Farm - Devon
Little Hallingbury Mill - Hertfordshire
Little Haven Hotel - Tyne & Wear
Little Hermitage - Kent
Little Silver Country Hotel - Kent
Littlecote House Hotel - Berkshire
Liverpool FC - Merseyside
Liverpool Marriott Hotel City Centre - Merseyside
Liverpool Marriott Hotel South - Merseyside
Lodge Park - Gloucestershire
Lodore Falls Hotel - Cumbria
London Aquarium - London
London Beach Country Hotel & Golf Club - Kent
London Canal Museum - London
London Dungeon - London
London Golf Club - Kent
London Heathrow Marriott Hotel - Middlesex
London Marriott Hotel Grosvenor Square - London
London Marriott Kensington Hotel - London
London Marriott West India Quay - London
London Wetland Centre - London
London Zoo - London
Longbarn Village - Warwickshire
Longleat House - Wiltshire
Longstowe Hall - Cambridgeshire
Longwood Shooting Lodge - Hampshire
Lord Leycester Hospital - Warwickshire
Lord Leycester Hospital - Warwickshire
Lord's Cricket Ground - London
Lords Golf and Country Club - Essex
Loseley Park - Surrey
Lost Village of Dode - Kent
Lostwithiel Hotel - Cornwall
Loton Park - Shropshire
Lower Slaughter Manor - Gloucestershire
Lucknam Park - Wiltshire
Ludlow Castle - Shropshire
Lulworth Castle & Park - Dorset
Lumley Castle Hotel - County Durham
Luton Hoo Hotel Golf & Spa - Bedfordshire
Lydiard House - Wiltshire
Lympne Castle - Kent
Lynford Hall Hotel - Norfolk
Lysses House Hotel - Hampshire
Lythe Hill Hotel & Spa - Surrey
Macdonald Bath Spa - Somerset
Macdonald Berystede Hotel & Spa - Berkshire
Macdonald Botley Park Hotel Golf & Country Club - Hampshire
Macdonald Bush Hotel - Surrey
Macdonald Compleat Angler - Buckinghamshire
MacDonald Elmers Court Hotel - Hampshire
Macdonald Frimley Hall Hotel & Spa - Surrey
Macdonald Gisborough Hotel - North Yorkshire
Macdonald Randolph Hotel - Oxfordshire
MacDonald St.Pauls Hotel - South Yorkshire
Magna Rotherham - South Yorkshire
Maidens Barn - Essex
Maison Talbooth - Essex
Makeney Hall Hotel - Derbyshire
Mallory Court - Warwickshire
Manchester Airport Marriott Hotel - Cheshire
Manchester Art Gallery - Manchester
Manchester Cathedral - Manchester
Wedding Venue - Manchester Marriott Victoria & Albert Hotel - Manchester
Wedding Venue - Manchester Metropolitan University - Manchester
Manchester Town Hall - Manchester
Manchester United Football Club - Manchester
Mandolay Hotel - Surrey
Mangapp Chase - Essex
Manners Arms - Leicestershire
Mannings Heath Golf Club - West Sussex
Mannings Heath Golf Club - West Sussex
Manor Barn Buriton - Hampshire
Manor By The Lake - Gloucestershire
Manor Hotel - Warwickshire
Manor House - Berkshire
Manor of Groves Hotel High Wych - Golf & Country Clu - Hertfordshir
Manorial Barn Whiston - South Yorkshire
Mansion House - Dorset
Mapledurham House & Watermill - Berkshire
Mapperton House Gardens - Dorset
Marble Hill House - Middlesex
Marina Hotel - Cornwall
Markenfield Hall - North Yorkshire
Marks Tey Hotel - Essex
Marmadukes Hotel - North Yorkshire
Marriott Forest of Arden Hotel & Country Club - Warwickshire
Marriott Hollins Hall - West Yorkshire
Marriott Sprowston Manor Hotel & Country Club - Norfolk
Marriott Tudor Park - Kent
Marriott Worsley Park Hotel & Country Club - Manchester
Marsh Farm Hotel - Wiltshire
Marshall Meadows Country House Hotel - Northumberland
Marsham Court Hotel - Dorset
Marston Farm Hotel - Warwickshire
Marwell Hall - Hampshire
MaryGreen Manor - Essex
Masson Farm - Derbyshire
Matara Centre - Gloucestershire
Matilda - London
Maunsel House - Somerset
Mawbyns - Essex
Maynard Arms - Derbyshire
Menzies Welcombe Hotel - Warwickshire
Meols Hall Tithe Barn - Lancashire
Merchant Taylors Hall - London
Merchant Taylors Hall York - North Yorkshire
Mercure Castle Hotel - Berkshire
Mercure Dunkenhalgh Hotel & Spa - Lancashire
Mercure Holland House Hotel Bristol - Bristol
Mercure Parkside Hotel - Buckinghamshire
Mercure Southgate Hotel - Devon
Mere Court Hotel & Conference Centre - Cheshire
Mere Golf & Country Club - Cheshire
Merrion Hotel - West Yorkshire
Metropole Hotel - Cornwall
Meynell Langley Hall - Derbyshire
Michelham Priory - East Sussex
Micklefield Hall - Hertfordshire
Middlethorpe Hall - North Yorkshire
Midland Hotel - West Yorkshire
Midland Railway Centre - Derbyshire
Midsummer House - Cambridgeshire
Milford Hall Hotel - Wiltshire
Mill Hall - Berkshire
Mill on the Brue - Somerset
Millennium Gloucester Hotel & Conference Centre - London
Millets Farm Centre - Oxfordshire
Milton Abbey - Dorset
Milton House Hotel - Oxfordshire
Minterne House - Dorset
Missenden Abbey Management Centre - Buckinghamshire
Mitchell Hall - Bedfordshire
Moccas Court - Herefordshire
Mollington Banastre Hotel - Cheshire
Monk Fryston Hall Hotel - North Yorkshire
Monkey Island Hotel - Berkshire
Montacute House - Somerset
Montagu Arms Hotel - Hampshire
Monttisfont Abbey - Hampshire
Moonfleet Manon - Dorset
Moor Hall - Berkshire
Moor Park - Hertfordshire
Moorside Grange Hotel & Spa - Cheshire
Moreton Hall - Warwickshire
Mortons House Hotel - Dorset
Mottisfont Abbey - Hampshire
Mottram Hall - Cheshire
Mount Ephraim Gardens - Kent
Mount Pleasant Bawtry Doncaster - South Yorkshire
Mountains Country House - Kent
Moxhull Hall - Warwickshire
Moxhull Hall Hotel - Warwickshire
Muncaster Castle - Cumbria
Munstone House - Herefordshire
Museum of Garden History - London
Museum of Kent Life - Kent
Nailcote Hall Hotel - Warwickshire
National Maritime Museum Cornwall - Cornwall
National Railway Museum - North Yorkshire
Nent Hall Hotel - Cumbria
Nether Winchendon House - Buckinghamshire
Nettlestead Place - Kent
New Bath Hotel - Derbyshire
New Hall - Mildlands
New Park Manor Hotel - Hampshire
New Place - Hampshire
New Wellington Hotel - Kent
Newburgh Priory - North Yorkshire
Newbury Manor Hotel - Berkshire
Newbury Racecourse - Berkshire
Newby Hall - North Yorkshire
Newcastle Cathedral - Tyne & Wear
Newcastle Civic Centre - Tyne & Wear
Newcastle Marriott Hotel MetroCentre - Tyne & Wear
Newick Park Country Estate Hotel - East Sussex
Newland Hall Roxwell - Essex
Newstead Abbey - Nottinghamshire
Newstead Priory - Lincolnshire
Nidd Hall Harrogate - North Yorkshire
No.4 Hamilton Place - London
North Stafford Hotel - Stoke-On-Trent - Staffordshire
Northampton Marriott Hotel - Northamptonshire
Northbrook Park - Hampshire
Northcote Manor Hotel - Devon
Northease Manor - East Sussex
Norton Grange Hotel - Lancashire
Norton Lodge Conference Centre - Lincolnshire
Norton Park - Hampshire
Norwich Cathedral - Norfolk
Noseley Hall - Leicestershire
Nostell Priory - West Yorkshire
Notley Abbey - Buckinghamshire
Nunsmere Hall Hotel - Cheshire
Nurstead Court - Kent
Nutfield Priory Hotel - Surrey
Oakhampton Park - Somerset
Oakley Court Hotel - Berkshire
Oakley Hall - Hampshire
Oaks Farm - Surrey
Oakwell Hall - West Yorkshire
Oakwood Centre - Berkshire
Oakwood Hall - West Yorkshire
Oakwood House - Kent
Ockenden Manor - West Sussex
Offley Grove Farm - Staffordshire
Offley Place Country House Hotel - Hertfordshire
Old Colehurst Manor - Shropshire
Old Luxters Barn - Oxfordshire
Old Mill - Somerset
Old Palace Lodge Hotel - Bedfordshire
Old Rectory Hotel - Shropshire
Old Ship Hotel - East Sussex
Old Somerley - Hampshire
Old Thorns Golf and Country Estate - Hampshire
Old Warden Park - Bedfordshire
Old Wardour Castle - Wiltshire
Olivers Lodge Hotel - Cambridgeshire
One Great George Street - London
Orangery at Turkey Mill - Kent
Orchardleigh House and Estate - Somerset
Orchardleigh House and Estate - Somerset
Orleans House Gallery - Middlesex
Ormesby Hall - Cleveland
Orsett Hall - Essex
Orsett Hall Hotel - Essex
Orton Hall Hotel - Cambridgeshire
Orwell Park School - Suffolk
Osborne Hotel - Devon
Osterley Park - Middlesex
Otley Hall - Suffolk
Otterburn Tower - Northumberland
Oulton Hall - North Yorkshire
Overmead Hotel - Devon
Owston Hall - South Yorkshire
Ox Pasture Hall Country House Hotel - North Yorkshire
Oxford Cathedral - Oxfordshire
Oxfordshire Golf Club - Oxfordshire
Packington Moor - Staffordshire
Palace Hotel - Manchester
Pamber Place - Hampshire
Paramount Palace Hotel - Derbyshire
Park Farm Hotel - Norfolk
Park Hall - Worcestershire
Park Hall Hotel - Lancashire
Park Inn Lakeside - Essex
Park Inn Northampton - Northamptonshire
Park Inn Thurrock - Essex
Park Plaza Leeds - West Yorkshire
Parkfields Country House - Herefordshire
Parklands Quendon - Essex
Parklands Quendon Hall - Essex
Parkmore Hotel - Cleveland
Parkstead House in London - London
Parkway House Hotel - Devon
Parley Manor - Dorset
Parley Manor - Dorset
Parsonage Country House Hotel - North Yorkshire
Pavillion on the Sands - Kent
Peacock Hotel - Warwickshire
Peckforton Castle - Cheshire
Peckover House - Cambridgeshire
Pedna Olva Hotel - Cornwall
Pelsham - East Sussex
Pembroke Lodge - London
Pencarrow - Cornwall
Pendennis Castle - Cornwall
Penmere Manor Hotel - Cornwall
Penmorvah Manor Hotel - Cornwall
Pennyhill Park Hotel - Surrey
Penshurst Place - Kent
Penventon Hotel - Cornwall
Penventon Park Hotel - Cornwall
Peover Golf Club - Cheshire
Peterborough Cathedral - Cambridgeshire
Peterborough Moat House - Cambridgeshire
Peterbrough Marriott - Cambridgeshire
Phillips House and Dinton Park - Wiltshire
Philpots Manor - Kent
Phyllis Court Club - Oxfordshire
Pilgrim Hotel - Herefordshire
Pittville Pump Room - Gloucestershire
Pitzhanger Manor House - London
Plaisterers' Hall - London
Pledgdon Barn - Essex
Plum Park Weddings - Northamptonshire
Plumber Manor - Dorset
Polhawn Fort - Cornwall
Polurrian Hotel - Cornwall
Pontlands Park Hotel Great Baddow - Essex
Port Lympne Wild Animal Park - Kent
Porth Avallen Hotel - Cornwall
Porthminster Hotel - Cornwall
Portland Castle - Dorset
Portsmouth Cathedral - Hampshire
Portsmouth Harbour Yacht Club - Hampshire
Portsmouth Marriott Hotel - Hampshire
Poundon House - Buckinghamshire
Powderham Castle - Devon
Powdermills Hotel - East Sussex
President Hotel - London
Prestbury House Hotel - Gloucestershire
Prested Hall - Essex
Preston Cross Hotel - Surrey
Preston Marriott Hotel - Lancashire
Prestwold Hall - Leicestershire
Prideaux Place - Cornwall
Prince Of Wales Hotel - Southport - Lancashire
Princess Caroline - Hampshire
Priory Hall - Suffolk
Priory Hotel - Dorset
Prism Restaurant and Bar - London
Priston Mill - Somerset
Prittlewell Priory Southend on Sea - Essex
Quality Hotel - Northamptonshire
Quality Hotel Birmingham - West Midlands
Quality Hotel Burlington - Kent
Quality Hotel Chorley - Lancashire
Quality Hotel Epping (Bell Hotel) - Essex
Quality Hotel Stafford - Staffordshire
Quarry Bank Mill - Cheshire
Queen Hotel - Cheshire
Queens Hotel - Cornwall
Queens Hotel Leeds - West Yorkshire
Quenby Hall - Leicestershire
Quex House - Kent
Quorn Country Hotel - Leicestershire
Quorn Grange Hotel - Leicestershire
R.s. Hispaniola in London - London
Radisson Edwardian Hotel - Manchester
Ramada Bolton - A Ramada Jarvis Hotel - Lancashire
Ramada Bowden Hall - Gloucestershire
Ramada Dover - Kent
Ramada Hotel & Resort Birmingham - West Midlands
Ramada Hull - East Yorkshire
Ramada Jarvis Bradford - West Yorkshire
Ramada Leeds North - West Yorkshire
Ramada Leeds Parkway - West Yorkshire
Ramada Leicester - Leicestershire
Ramada Norwich - Norfolk
Ramada Plaza Gatwick - West Sussex
Ramada Solihull Birmingham - West Midlands
Ramada Watford - Hertfordshire
Ramada Wetherby - West Yorkshire
Ramada York - North Yorkshire
Ramside Hotel - County Durham
Ramster - Surrey
Ratsbury Barn - Kent
Raven Hall Hotel - North Yorkshire
Ravenwood Hall - Suffolk
Red Lion Hotel - North Yorkshire
Red Lion Hotel - Hampshire
Redworth Hall - County Durham
Regency Park Hotel - Berkshire
Regent Hotel - South Yorkshire
Regiment Way Golf Club Great Waltham Chelmsford - Essex
Rembrandt Hotel - London
Renaissance Chancery Court - London
Renaissance Manchester Hotel - Manchester
Renishaw Hall - Derbyshire
Rennaisance London Heathrow - Middlesex
Rhinefield House Hotel - Hampshire
RHS Garden Wisley - Surrey
RIBA - Royal Institute of British Architects - London
Riber Hall - Derbyshire
Ringwood Hall - Derbyshire
Ripley Castle - North Yorkshire
Ripon Cathedral - North Yorkshire
Risley Hall - Derbyshire
Riverdale Hall Hotel - Northumberland
Riverside Hotel - Derbyshire
Riverside Sopley Mill - Dorset
Rochester Cathedral - Kent
Rockingham Castle - Leicestershire
Roof Gardens - London
Rookery Hall - Cheshire
Rookery Manor - Somerset
Rose-In-Vale - Cornwall
Rosevine Hotel - Cornwall
Rothley Court Hotel - Leicestershire
Roundhouse Hotel - Bournemouth - Dorset
Rousham House - Oxfordshire
Rowhill Grange Hotel - Kent
Rowton Castle Hotel - Shropshire
Rowton Hall Hotel & Spa - Cheshire
Royal Adelaide Hotel - Berkshire
Royal Albion Hotel - Brighton - Sussex
Royal Bath - Dorset
Royal Berkshire Ramada Plaza - Berkshire
Royal Castle Hotel - Devon
Royal Chase Hotel - Dorset
Royal Court Hotel - Coventry - Midlands
Royal Duchy Hotel - Cornwall
Royal Leamington Hotel - Warwickshire
Royal Sailors Home Club - Hampshire
Royal Seven Stars Hotel - Devon
Royal Wells Hotel - Kent
RSA - London
Rudding Park - North Yorkshire
Rufford Old Hall - Lancashire
Rumbolds Farm - West Sussex
Rumi Bar - London
Runnymede Hotel & Spa - Surrey
Rushpool Hall Hotel - North Yorkshire
Rushton Hall - Northamptonshire
Rutland Arms Hotel - Derbyshire
Rutland Hotel Sheffield - South Yorkshire
Sachas Hotel - Manchester - Manchester
Sackville School - Kent
Salford Hall Hotel - Warwickshire
Salisbury Cathedral - Wiltshire
Salmestone Grange - Kent
Salomons - Kent
Salterns Hotel - Dorset
Samlesbury Hall - Lancashire
Sandford Springs Golf Club - Hampshire
Sandhole Farm - Cheshire
Sandpiper Hotel - Derbyshire
Sands Resort Hotel - Cornwall
Sandwich Guildhall - Kent
Scaitcliffe Hall - Lancashire
Scalford Hall - Leicestershire
Scampston Hall - North Yorkshire
Scarborough Spa Complex - North Yorkshire
Scorier House - Cornwall
Sculthorpe Mill - Norfolk
Seaham Hall Hotel - County Durham
Seckford Hall - Suffolk
Sefton Hotel - Douglas - Isle of Man
Seiners Arms - Cornwall
Sewerby Hall - East Yorkshire
Shakespeares Globe - London
Sharrow Bay Hotel - Cumbria
Sharsted Court - Kent
Shearsby Bath - Leicestershire
Sheffield Cathedral - South Yorkshire
Sheffield Marriott - South Yorkshire
Sheffield Park Hotel - South Yorkshire
Sheffield Wednesday Football Club - South Yorkshire
Sheldon Manor - Wiltshire
Shendish Manor - Hertfordshire
Shepperton Moat House - Middlesex
Shepperton Studios - London
Sheraton Heathrow Hotel - Middlesex
Sherborne Castle - Dorset
Shorefield Country Club - Hampshire
Shottle Hall Country - Derbyshire
Shotton Hall - County Durham
Shrewsbury Castle - Shropshire
Shrigley Hall - Cheshire
Shrubbery Hotel - Somerset
Shugborough Estate - Staffordshire
Shuttleworth Old Warden Park - Bedfordshire
Silchester House - Berkshire
Silchester House - Berkshire
Silverstone Circuits Ltd - Northamptonshire
Silverstone Golf Club - Buckinghamshire
Simonstone Hall Country House Hotel - North Yorkshire
Simply Heathcotes - Manchester
Sindlesham Court - Berkshire
Singleton Lodge Country House Hotel - Lancashire
Sir Christopher Wrens House Hotel - Berkshire
Sketchley Grange - Leicestershire
Skiddaw Hotel - Cumbria
Skinners Hall - London
Slaley Hall - Northumberland
Slaugham Place - West Sussex
Sledmere House - East Yorkshire
Smeetham Hall Barn - Bristol
Smeetham Hall Barn Nr. Sudbury - Suffolk
Smithills Coaching House - Manchester
Smollensky's Canary Wharf - London
Solent Hotel - Hampshire
Somerford Hall - Staffordshire
Somerley House - Hampshire
Sopwell House - Hertfordshire
Soulton Hall - Shropshire
South Lodge Hotel - West Sussex
South Lodge Hotel London Road, Chelmsford - Essex
Southchurch Hall - Essex
Southport Theatre & Floral Hall Complex - Merseyside
Southwark Cathedral - London
Southwell Cathedral - Nottinghamshire
Spa Hotel Tunbridge Wells - Kent
Spains Hall - Cambridgeshire
Spains Hall Finchingfield Essex
Sparth House Hotel - Clayton le Moors - Lancashire
Spitbank Fort - Hampshire
Spread Eagle Hotel - Oxfordshire
Spread Eagle Hotel - West Sussex
Springhead Mill & Lakeside Gardens - Dorset
St Andrews House Hotel - Worcestershire
S St Audries Park - Somerset
St Augustines - Kent
St Augustines Priory - Kent
St Edmundsbury Cathedral - Suffolk
St Enodoc Hotel - Cornwall
St George Hotel - London
St Julians Club - Kent
St Leonard the Less Samlesbury - Lancashire
St Leonards Hotel - Dorset
St Martins Priory - Kent
St Mawes Castle - Cornwall
St Mellion - Cornwall
St Michaels Manor - Hertfordshire
St Peters Hall - Suffolk
St Pierre Hotel - West Yorkshire
St Williams College - North Yorkshire
St. Andrewss & Blackfriars Hall - Norfolk
St. Marys Guildhall - Warwickshire
St. Michaels Hotel - Cornwall
St.Leonards Mansion - Berkshire
Staff House - East Yorkshire
Staindrop Lodge Hotel - South Yorkshire
Stallingborough Grange Hotel - Lincolnshire
Stamford Golf Club -Stalybridge - Cheshire
Stanhill Court Hotel - Surrey
Stanmer House - East Sussex
Stanneylands Hotel - Cheshire
Stansted Park - Hampshire
Stanton House Hotel - Wiltshire
Stanwell House Hotel - Hampshire
Staple Inn Hall - London
Stapleford Park - Leicestershire
Statham Lodge Hotel - Lancashire
Stationers Hall - London
Steventon House Hotel - Oxfordshire
Stirrups Country House Hotel - Berkshire
Stock Brook Country Club Billericay - Essex
Stockbridge Farm Barn - Dorset
Stockbrook Manor Country Club - Essex
Stockport Town Hall - Cheshire
Stoke by Nayland Hotel - Essex
Stoke Park - Buckinghamshire
Stoke Place - Buckinghamshire
Stoke Rochford Hall - Lincolnshire
Ston Easton Park - Somerset
Stone Castle - Kent
Stone Manor Hotel - Worcestershire
Stonecross Manor Hotel - Cumbria
Stonehouse Court Hotel - Gloucestershire
Stoneycroft Hotel - Leicestershire
Stoodleigh Court - Devon
Storrs Hall - Cumbria
Stourhead - Wiltshire
Stourport Manor Hotel - Warwickshire
Stowe - Buckingham
Stower Grange - Norfolk
Stratford Manor (QHotels) - Warwickshire
Stratford Victoria (QHotels) - Warwickshire
Studland Beach - Dorset
Studley Castle - Warwickshire
Sudbury Hall - Derbyshire
Sudbury House Hotel - Oxfordshire
Suites Hotel Knowsley - Merseyside
Summer Lodge Hotel - Dorset
Sun Pavilion - North Yorkshire
Sunderland Marriott Hotel - Tyne & Wear
Sunley Management Centre - Northamptonshire
Sutton Hall - Essex
Sutton Park - North Yorkshire
Swallow Hotel - County Durham
Swallow Newcastle Gateshead Hotel - Tyne & Wear
Swan Revived Hotel - Buckinghamshire
Swarling Manor - Kent
Swindon Marriott Hotel - Wiltshire
Swinton Park - North Yorkshire
Swiss Garden - Bedfordshire
Swynford Paddocks - Suffolk
Syon Park - Middlesex
Tabley House - Cheshire
Tankersley Manor Hotel Rotherham - South Yorkshire
Taplow House Hotel - Buckinghamshire
Tapton Masonic Hall - South Yorkshire
Tarantella Hotel & Restaurant - Suffolk
Tattersalls - Suffolk
Tattershall Castle - Lincolnshire
Tatton Park - Cheshire
Taunton School - Somerset
Taverham Hall School - Norfolk
Temple Island - Oxfordshire
Temple Island Meadow - Berkshire
Tenterden Town Hall - Kent
Tern Hill Hall Hotel - Shropshire
Ternhill Hall Hotel - Shropshire
Tewin Bury Farm Hotel - Hertfordshire
Tewkesbury Park Hotel Golf & Country Club - Gloucestershire
Thames Lighthouses Chainstore Building - London
The Abbey Inn - North Yorkshire
The Acton Court Hotel - Manchester
The Aerodrome Hotel - Surrey
The Albert Halls - Manchester
The Albright Hussey Manor Hotel - Shropshire
The Alverbank Country House Hotel - Hampshire
The Amadeus Centre - London
The Anchor Inn - East Sussex
The Angel Hotel - Lincolnshire
The Angel Hotel - West Sussex
The Anglers Arms - Northumberland
The Arden Hotel - Warwickshire
The Ardencote Manor Hotel & Country Club - Warwickshire
The Assembly House - Norfolk
The Assembly House Trust Ltd - Norfolk
The Astley Bank Hotel and Conference Centre - Lancashire
The Aston Court Hotel - Derbyshire
The Atrium - London
The Balmer Lawn Hotel - Hampshire
The Barn - Oxfordshire
The Barn at Bury Court - Surrey
The Barn Function Centre - Gloucestershire
The Barns Hotel Bedford - Bedfordshire
The Bay Tree Hotel - Oxfordshire
The Beacon - Kent
The Bear of Rodborough Hotel - Gloucestershire
The Beaulieu Hotel - Hampshire
The Bell In Driffield - East Yorkshire
The Bell Inn Stilton - Cambridgeshire
The Belmont Hotel - South Yorkshire
The Bentley Kempinski Hotel - London
The Best Western Valley Hotel - Shropshire
The Bowes Museum - County Durham
The Bridge - North Yorkshire
The Bridge Hotel - Cheshire
The Bridge House Hotel - Dorset
The Brighton Centre - Shropshire
The Brighton Centre - East Sussex
The Bringewood - Shropshire
The Britannia International Hotel - London - London
The British Empire & Commonwealth Museum - Bristol
The Broadfield Hotel - Lancashire
The Brownsover Hall Hotel - Warwickshire
The Burlington Hotel - West Sussex
The Carbis Bay Hotel - Cornwall
The Carlyon Bay Hotel - Cornwall
The Castlefield Rooms - Manchester
The Cavendish Pavilion - North Yorkshire
The Centurion Hotel - Somerset
The Chace Hotel - Warwickshire
The Chantry - East Sussex
The Charlecote Pheasant Hotel - Warwickshire
The Chester Grosvenor and Spa - Cheshire
The Chichester - Essex
The Chine - Dorset
The Church Inn - Saddleworth - Lancashire
The Clarendon Suites - West Midlands
The Clock Barn - Hampshire
The Clock Tower(Millom)Ltd - Cumbria
The Coach House Hotel - Essex
The Commonwealth Club - London
The Coniston Hotel - North Yorkshire
The Conservatory at Chelsea - London
The Conservatory at Painshill Park - Surrey
The Coopers Arms - Derbyshire
The Coppleridge Inn - Dorset
The Copthorne Gatwick Hotel - West Sussex
The Country Club Cheshunt - Hertfordshire
The Country Cottage - Nottinghamshire
The County Suite - Hertfordshire
The Cresset - Cambridgeshire
The Croft at Woore - Shropshire
The Crown & Sandys Hotel - Worcestershire
The Crown Hotel - North Yorkshire
The Crown Hotel - Dorset
The Crown Hotel - Buckinghamshire
The Cutlers Hotel Sheffield - South Yorkshire
The Devonshire Arms - North Yorkshire
The Devonshire Fell Hotel and Restaurant - North Yorkshire
The Diamond Centre - Northamptonshire
The Dog Inn - Kent
The Eclectic Hotel Collection - Manchester
The Eight Bells - Essex
The Elms Hotel - Worcestershire
The Elvetham - Hampshire
The Elvetham Hotel - Hampshire
The Essex Golf & Country Club - Essex
The Expanse Hotel - East Yorkshire
The Fairlawns at Aldridge - Staffordshire
The Falcons (Rare Breeds Centre) - Kent
The Famous Schooner Hotel - Northumberland
The Fennes Estate Bocking Braintree - Essex
The Ferryman Inn - Oxfordshire
The Firs - Berkshire
The Fleece Inn - Worcestershire
The Forest Lodge Hotel - Hampshire
The Freemasons Hall - Manchester
The Garden House at Denchworth Manor - Oxfordshire
The Garrison Hotel Sheffield - South Yorkshire
The Garth - Oxfordshire
The Gatehouse Eskdale Lake District - Cumbria
The George Hotel - West Yorkshire
The George Hotel - Lincolnshire
The George in Rye - East Sussex
The Glasshouse at Combermere - Cheshire
The Graftonbury Garden Hotel - Herefordshire
The Granary Hotel Shenstone - Warwickshire
The Granby Hotel & Restaurant - Kent
The Grand Folkestone - Kent
The Grand Hotel - East Sussex
The Grand Hotel - Dorset
The Grand Hotel - Scarborough - North Yorkshire
The Grange - Merseyside
The Grange and Cavendish Country Houses - Middlesex
The Grange Hotel - Bristol
The Grange Hotel - North Yorkshire
The Grange Hotel - Dorset
The Great Barn - Oxfordshire
The Great Hall at Mains - Lancashire
The Green Dragon Hotel - Herefordshire
The Greenbank Hotel - Cornwall
The Greswolde Hotel & Brasserie - West Midlands
The Grimsdyke Hotel - Middlesex
The Grosvenor Hotel (Best Western group) - Warwickshire
The Grove - West Yorkshire
The Guildhall - Wiltshire
The Guildhall - Dorset
The Guildhall - Somerset
The Guildhall - Suffolk
The HAC - London
The Harbrough Hotel - Lincolnshire
The Haven - Dorset
The Haycock Hotel - Cambridgeshire
The Headland Hotel - Cornwall
The Hertfordshire Golf & Country Club - Hertfordshire
The High Rocks - Kent
The Hollywood Restaurant - Essex
The Horn of Plenty - Devon
The Hotel Rembrandt - Dorset
The Hythe Imperial - Kent
The Inglenook Hotel - West Sussex
The Inn at Whitewell - Lancashire
The Inn on the Green - Berkshire
The Ivy - London
The Ivy Hotel - Wiltshire
The Jester Hotel - Hertfordshire
The Kings Arms Hotel - Northumberland
The Kings Arms Hotel - Dorset
The Kings Gap - Merseyside
The Kings Hotel - East Sussex
The Kingscote Barn - Gloucestershire
The Kingswood Hotel - Dorset
The Langton Arms - Dorset
The Lansdowne Club - London
The Lawn Rochford - Essex
The Letchworth Hall Hotel - Hertfordshire
The Lodore Falls Hotel - Cumbria
The Lord Haldon Hotel - Devon
The Lowry - Manchester
The Lund Pavilion - Derbyshire
The Lyceum Theatre - South Yorkshire
The Lygon Arms - Worcestershire
The Madison Hotel & Conference Centre - Wiltshire
The Manor - Essex
The Manor Hotel - Berkshire
The Manor Hotel - Dorset
The Manor House - Berkshire
The Manor House Golf Club - Wiltshire
The Manor House Hotel - Gloucestershire
The Manor House Hotel - Wiltshire
The Manor of Groves Hotel High Wych - Hertfordshire
The Marine Hotel - Kent
The Marriott Goodwood Park Hotel & Country Club - Hampshire
The Marwell Hotel - Hampshire
The Marygreen Manor Hotel Brentwood - Essex
The Mayfair Centre - County Durham
The Melia White House - London
The Menzies Avant Hotel - Lancashire
The Menzies Welcome Hotel - Warwickshire
The Meynell Ingram Arms - Staffordshire
The Midland - Derbyshire
The Midland - Manchester
The Mill at Worston - Staffordshire
The Mill Hotel - Suffolk
The Mill Hotel - Shropshire
The Mill House - Berkshire
The Moat House Acton Trussel - Staffordshire
The Montague Hotel - London
The Montague on the Gardens - London
The Moorhill House Hotel - Hampshire
The Mount Hotel - West Midlands
The Mount Somerset - Somerset
The Mytton & Mermaid Hotel - Shropshire
The National Glass Centre - Tyne & Wear
The Natural History Museum - London
The Nest - Shropshire
The New French Partridge - Northamptonshire
The New Mill - Hampshire
The New Mill Restaurant - Hampshire
The Norbreck Castle Hotel - Blackpool - Lancashire
The Norfolk Arms Hotel - West Sussex
The Norfolk Royale Hotel - Dorset
The Oaklands Hotel - Cheshire
The Oaklands Hotel & Restaurant - Norfolk
The Oakley - Staffordshire
The Old Bridge Hotel - Cambridgeshire
The Old Library - West Midlands
The Old Lodge Hote - North Yorkshire
The Old Mill Aldermaston - Berkshire
The Old Mill Hotel and Leisure Centre - Lancashire
The Old Rectort - Northamptonshire
The Old Rectory - Essex
The Old Rectory Hotel - Manchester
The Old Rectory Hotel - Norfolk
The Old Rose & Crown Hotel - West Midlands
The Old School House Restaurant - Staffordshire
The Old Swan - North Yorkshire
The Old Vicarage at Elkesley - Nottinghamshire
The Orangery Whittlebury Park - Northamptonshire
The Oxford Hotel - Oxfordshire
The Palms Tropical Oasis at Stapeley Water Gardens - Cheshire
The Paragon Hotel - Midlands
The Park - Wiltshire
The Park Hotel - Merseyside
The Park House Hotel - Shropshire
The Pavilion - Midlands
The Pear Tree At Purton - Wiltshire
The Pendley Manor Hotel - Hertfordshire
The Peterborough United Football Club - Cambridgeshire
The Phillip Green Memorial - Dorset
The Pier Hotel & Restaurant Harwich - Essex
The Ponsbourne Park Hotel - Hertfordshire
The Priest House Hotel - Derbyshire
The Priests House - North Yorkshire
The Priory - Somerset
The Priory Hotel - Herefordshire
The Priory Hotel - Lincolnshire
The Private Rooms at Buckingham Gate in London - London
The Purbeck House Hotel - Dorset
The Quality Friendly Hotel - Tyne & Wear
The Quality Hotel - Worcestershire
The Quayside Exchange - Tyne & Wear
The Queens Club - London
The Queens Hotel - Gloucestershire
The Queens House - London
The Queens Inn - Kent
The Ramada Hotel - Warwickshire
The Ravensdene Lodge Hotel - Tyne & Wear
The Ravenswood - West Sussex
The Red Lion Hotel - North Yorkshire
The Red Lion Hotel - Essex
The Red Lion Hotel - Oxfordshire
The Regency Hotel and Restaurant - South Yorkshire
The Reid Rooms - Essex
The Renaissance Derby - Nottingham Hotel - Derbyshire
The Ritz London - London
The Rivenhall Hotel - Essex
The Roman Baths - Somerset
The Room in the Rodings - Essex
The Rose And Crown Hotel - Suffolk
The Rose and Crown Hotel - Essex
The Royal Arms Hotel - Leicestershire
The Royal Beacon - Devon
The Royal Clifton Hotel - Merseyside
The Royal County Marriott Hotel Durham - County Durham
The Royal Crescent - Somerset
The Royal Hotel - Leicestershire
The Royal Marines Museum - Hampshire
The Royal Norfolk Hotel - West Sussex
The Royal Pavilion - East Sussex
The Royal Toby Hotel - Lancashire
The Rutland Hotel Sheffield - South Yorkshire
TThe Saddle Cub - Merseyside
The Saddleworth Hotel - Cheshire
The Samling - Cumbria
The Sandbanks - Dorset
The Savoy Hotel - Blackpool - Lancashire
The Seiners Arms - Cornwall
The Shakespeare Hotel - Warwickshire
The Sherborne Hotel - Dorset
The Ship Hotel - Middlesex
The Sir Thomas Hotel - Merseyside
The Sitwell Arms Hotel - Derbyshire
The Smugglers Restaurant - Kent
The Snooty Fox - Northamptonshire
The Springs Hotel - Oxfordshire
The Square Tower - Hampshire
The St. Giles Rooms - Norfolk
The St.Johns Hotel - West Midlands
The Stables High Melton Doncaster - South Yorkshire
The Stage Hotel - Leicestershire
The Star & Eagle Hotel - Kent
The Star Inn Harome - North Yorkshire
The Stoke By Nayland Hotel & Golf Club - Essex
The Sun Pavilion - North Yorkshire
The Swallow Bower Hotel - Lancashire
The Swallow Chaucer Hotel - Kent
The Swallow Kent International - Kent
The Swan - Kent
The Swan at Streatley - Berkshire
The Swan Hotel - Gloucestershire
The Swan Hotel - Somerset
The Swan Hotel Lavenham - Suffolk
The Temple - Cambridgeshire
The Thistle Hotel - Warwickshire
The Tithe Barn (Ditcham) Ltd - Hampshire
The Town Hall - Herefordshire
The Trentham Estate - Staffordshire
The Tythe Barn - Oxfordshire
The Union Club - London
The University of Birmingham Hornton Grange - West Midlands
The Upper Reaches - Oxfordshire
The Village Hotel & Leisure Club - Merseyside
The Vineyard at Stockcross - Berkshire
The VIP Lounge - Middlesex
The Vyne - Hampshire
The Warren Golf Club - Essex
The Warwick Arms Hotel - Warwickshire
The Waterloo Hotel - Berkshire
The Webbington Hotel and Country Club - Somerset
The Wessex Conference Centre - Hampshire
The Wessex Hotel - Dorset
The Wessex Royale Hotel - Dorset
The West Retford Hotel - Nottinghamshire
The Westcliff Hotel Southend on Sea - Essex
The Westmead Hotel - West Midlands
The Weston Hall Hotel - Warwickshire
The White Hart at Great Yeldham - Essex
The White Hart Inn - Lancashire
The White Horse Inn - Kent
The White Swan - West Sussex
The White Swan - Warwickshire
The Winchester Hotel - Hampshire
The Woodstock - Kent
The Worsley Arms Hovingham - North Yorkshire
The Yorkshire Hotel - North Yorkshire
TheTudor Barn - Buckinghamshire
Thistle Birmingham - West Midlands
Thistle Luton - Bedfordshire
Thistle Poole - Dorset
Thistle St Albans - Hertfordshire
Thoresby Hall Hotel - Nottinghamshire
Thornbridge Hall - Derbyshire
Thornbury Castle - Bristol
Thornbury Golf Centre - Bristol
Thornton Hall Hotel & Health Club - Cheshire
Thornton Manor - Cheshire
Thorpe Hall - Cambridgeshire
Thorpe Underwood Estate - North Yorkshire
Thorpeness Hotel & Golf Club - Suffolk
Three Rivers Golf & Country Club Cold Norton - Essex
Thurlestone Hotel - Devon
Tickton Grange Hotel & Restaurant - East Yorkshire
Tiger Tiger Croydon - Surrey
Tissington Hall - Derbyshire
Tonbridge Castle - Kent
Tone Dale House - Somerset
Top Meadow Country House and Golf Club - Essex
Tortworth Court Four Pillars Hotel - Bristol
Towcester Racecourse - Northamptonshire
Tower Bridge - London
Towerlands Braintree - Essex
Trafalgar Park - Wiltshire
Treasurers House - North Yorkshire
Treasurers House - North Yorkshire
Tredethy Country House - Cornwall
Tregenna Castle - Cornwall
Trematon Hall - Cornwall
Trent College - Derbyshire
Trenython Manor - Cornwall
Trereife House - Cornwall
Trerice Manor - Cornwall
Trevarno Estate and Gardens - Cornwall
Trevenna - Cornwall
Trevigue Weddings - Cornwall
Trinity Park - Suffolk
Trunkwell House - Berkshire
Truro Cathedral - Cornwall
Tudor Grange Hotel - Dorset
Tudor Lodge Hotel - Middlesex
Tufton Arms Hotel - Cumbria
Turkey Mill Events Ltd - Kent
Tutbury Castle - Staffordshire
Tylney Hall - Hampshire
Tyne Theatre and Opera House - Tyne & Wear
Tyrrells Ford Country House Hotel - Dorset
Upton House - Dorset
Upwaltham Barns - West Sussex
Urban Bar and Brasserie - London
Vaulty Manor Heybridge Maldon - Essex
Victoria Park Plaza - London
Victory Services Club - London
Village Hotel & Leisure Club - Kent
Village Hotel Bury - Manchester
Village Hotel Cheadle - Cheshire
Village Hotel Hull - East Yorkshire
Village Hotel Leeds - West Yorkshire
Village Hotel Newcastle - Tyne & Wear
Villiers Hotel - Buckinghamshire
Vinopolis - London
Waddesdon Manor - Buckinghamshire
Wadernhow House - Cambridgeshire
Wadhurst Castle - Kent
Wakefield Cathedral - West Yorkshire
Wakehurst Place - West Sussex
Walcot Hall - Shropshire
Waldorf Hilton - London
Walkers Stadium - Leicestershire
Wallington - Northumberland
Walmer Castle & Gardens - Kent
Waltham Abbey Marriott Hotel - Essex
Waltham Court - Kent
Walton Hall - Warwickshire
Walton Hall and Gardens - Cheshire
Waltons Oak Barn - East Sussex
Walworth Castle Hotel - County Durham
Wantisden Valley - Suffolk
Wantisden Valley - Suffolk
Warbrook House and Grange - Hampshire
Ware Priory - Hertfordshire
Warkworth House Hotel, No 16 Restaurant Bar & Bistro - Northumberland
Washingborough Hall Hotel - Lincolnshire
Washington Old Hall - Tyne & Wear
Waterfront Place Chelmsford - Essex
Watergate Bay Hotel - Cornwall
Watermark - Cornwall
Waterside Hotel - Manchester
Waterton Park Hotel and Walton Hall - North Yorkshire
Weald & Downland Open Air Museum - West Sussex
Weald of Kent - Kent
Weetwood Hotel Leeds - West Yorkshire
Wellesbourne Watermill - Warwickshire
Wellington Barn - Wiltshire
Wellington College - Berkshire
Wembley Stadium - London
Wentbridge House Hotel - West Yorkshire
Wentworth Club - Berkshire
West Ham United Football Club - London
West Park House - Northamptonshire
West Tower country - Lancashire
Westcliff Hotel - Devon
Westenhanger Castle - Kent
Westminster Abbey - London
Westmorland Hotel - Cumbria
Weston Hall - Staffordshire
Weston Hall Hotel - Warwickshire
Weston Manor Hotel - Oxfordshire
Weston Park - Norfolk
Weston Park - Staffordshire
Westonbirt Arboretum - Gloucestershire
Westover Hall - Hampshire
Westwood Hotel - Oxfordshire
Westwood House - South Yorkshire
Wethele Manor - Warwickshire
Wharton Park Golf Club - Worcestershire
Whatley Manor - Wiltshire
Whirlowbrook Hall - South Yorkshire
Whiston Hall & Mansion Court Hotel - Staffordshire
Whitby Pavilion - North Yorkshire
White House Hotel - Hertfordshire
White Swan Hotel - Northumberland
Whitehall Country Hotel - Essex
Whitehall Hotel - Lancashire
Whitewater Hotel and Leisure Club - Cumbria
Whitney Court - Herefordshire
Whittington Castle - Shropshire
Whitworth Hall - County Durham
Widbrook Grange - Wiltshire
Wild Duck Inn - Gloucestershire
Willesborough Windmill - Kent
Wilton Court Hotel - Herefordshire
Wilton House - Wiltshire
Wimpole Hall - Cambridgeshire
Wincanton Race Course - Somerset
Wincham Hall Hotel - Cheshire
Winchester Cathedral - Hampshire
Winchester Guildhall - Hampshire
Winchester House - London
Winslowe House - Hampshire
Winterhill Conference Centre - Buckinghamshire
Witney Lakes Resort - Oxfordshire
Wivenhoe House Hotel Colchester - Essex
Woburn Abbey - The Sculpture Gallery - Bedfordshire
Wokefield Park - Berkshire
Wolfeton House - Dorset
Wolterton & Mannington Estate - Norfolk
Wood Hall - West Yorkshire
Woodhall Hotel - South Yorkshire
Woodlands - West Yorkshire
Woodlands Lodge Hotel - Hampshire
Woodlands Manor - Bedfordshire
Woodlands Manor Golf Club - Kent
Woodside - Warwickshire
Woolacombe Bay Hotel - Devon
Woolston Manor Golf & Country Club - Essex
Worcester Cathedral - Worcestershire
Worgret Manor Hotel - Dorset
Worlington Hall - Suffolk
Worsley Court House - Manchester
Wortley Hall - South Yorkshire
Wortley House Hotel - Lincolnshire
Wroxall Abbey Estate - Warwickshire
Wroxton House Hotel - Oxfordshire
Wyboston Lakes - Bedfordshire
Wythenshawe Hall - Manchester
Yarlington House - Somerset
Yarnton Manor - Oxfordshire
Yaxley Hall - Suffolk
Ye Olde Bell - Berkshire
Ye Olde Plough House Bulpan- Essex
Ye Olde Vicarage Hotel - Cheshire
Yenton Hotel & Restaurant - Dorset
Yew Lodge Hotel - Derbyshire
York House - Middlesex
York Marriott Hotel - North Yorkshire
York Maze - North Yorkshire
York Minster - North Yorkshire
York Pavilion Hotel - North Yorkshire
ZSL London Zoo - London
ZSL Whipsnade Zoo - Bedfordshire