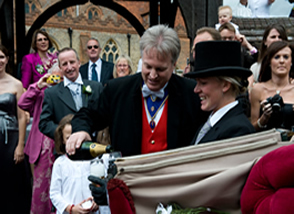 English Toastmaster pouring champagne for
the Bride and Groom at Great Baddow Church, Essex.
Photograph courtesy of Essex wedding photographer
David Court www.courtoncamera.co.uk
If you are getting married in or around Essex and are looking for an Essex wedding
disco for your special day please contact -
The Classic Nomad Disco & Light Show Expereince for further details.
The qualities that help to make an excellent toastmaster are
Outstanding communication and leadership skills
Ability to listen and fully understand client's requirements
Have a passion for excellence and deliver an excellent quality service, based on the client's needs
Ability to remain calm in any situation
Works well in a team environment
Keeps an open mind and maintains a balanced view of issues
Understand required procedures
Ability to accept differences of opinion
Ability to be quick thinking and make the most of every situation
Preferable - high quality client testimonials in this line of
work or related topics
Toastmaster Training Courses
at The English Toastmasters Association Toastmaster Training School

Richard Palmer offers training courses designed to cover the basics of being a toastmaster and to cover the most important subjects to help you offer an impeccable service to your clients and give you the iniatives to find business. You will gain the maximum knowledge to get you started with the confidence and ongoing support of the association and regular help, updates, as well as the opportunity to attend regular meetings and training seminars to continually improve on your existing knowledge and liaise with fellow members.
The course is run on a one to one basis ensuring you receive a personal service and to take into consideration your existing experience, expertise and future aims.
The course contains the following modules
The history of our profession

Our code of ethics

Etiquette and protocol related to client service

Our uniform

Announcements, how, why and where appropriate

Equipment, including the use of sound systems

Weddings and or appropriate itineries and your role as a toastmaster

Basic marketing
The supporting materials included are
A comprehensive manual with documentation relating to our history, etiquette and protocol

Sample letters and event running forms covering a wide range of culturally diverse functions

Equipment list

Mission statement

Code of Ethics

Member access to the association web site
Upon joining the English Toastmasters Association, a full members page is also included for you within our web site and can be updated at any time incurring no additional cost to you. This page will help your marketing and publicity and may encourage future business. Many of the association's members have seen great success from their pages since joining.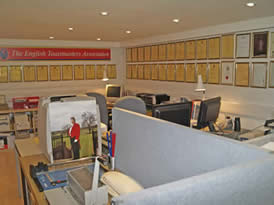 Our headqauters in Danbury, Chelmsford, Essex
Upon the completion of the training course you will receive
Full membership for 1 year

Public liability insurance cover for £5,000,000,00 WITH THE EXCEPTION OF THOSE LIVING OUTSIDE THE UK

English Toastmasters Association Medallion, free on loan whilst you are a member

English Toastmasters Association Logo for use on your web site and stationery

Framed certificate of attendance

Framed certificate of membership

Marketing tools

Mission statement and code of ethics

Information and forms for use as templates

Access to the English Toastmasters Association member web site as well as ongoing support in the development of your member web page
The duration of the course is 3 days, each of six hours, but this is a minimum, as the days often include meetings with other professionals in the hospitality and leisure business. A few more hours are beneficial. These meetings include getting together with other members, venue and catering management, photographers, videographers and offer discussions about the best methods of working alongside such professionals.
The English Toastmasters Association training course is designed to suit you, dates, days and start times can all be agreed on an individual basis. Daily start times are usually between 8am - 10am with a view of finishing the day between 3pm - 5pm. The training course takes place at the English Toastmasters Association Headquarters which is based in Danbury, Essex.
Details of accommodation during your stay are available on The English Toastmasters Association web site on the courses page.
Refreshments including lunch each day is included in the course cost as well as all onsite facilities including secure parking.
Please feel free to contact The Association with any questions or queries you may have. We are on hand any time to offer support and help and are more than happy to offer further information and details about our training facilities and courses.
For further information please call 01245 222392 / 07971 409977
Clues why you should train with the English Toastmasters Association
I don't see any changes that could possibly make this course any better. Best three days training I've ever had in 30 years of business. Brilliant. I have learnt more than I thought I ever would in such a short time. Keep up the good work. Michael Kellett, Wakefield, Yorkshire
The course was conducted in comfortable surroundings and was well structured. It was very helpful to meet other toastmasters and colleagues. Vanessa King, Surrey
Don't change anything but please don't get me so excited about toastmastering that I can't sleep before the next day of the course. Thanks again for a fantastic learning experience. Brian Crockett, West Midlands
Excellent three days, I would not change anything - for me, it suited my style of learning. Stephen Gregory, Essex
Don't change the way they you deliver your courses, although very intense I imagine you would not receive the practical, visual and off site training with any other association. Thank you Andrew West Cambridgeshire
Outstanding course, well worth every penny, my thanks to Richard for his time and training he gave me for toastmastering. Many thanks, I am so happy to have become a member of the English Toastmasters Association. Jude Garland Faversham, Kent
The course content was fully covered in a very friendly and informative manner (time taken to meet any queries). A pleasure to meet other related people like photographers, toastmasters and venue organisers. Thoroughly interesting, the three days flew by and the assistance with my web site was invaluable. It was a pleasure to have attended the training course as it exceeded my expectations and provided a much greater insight into the role of the toastmaster which is down to the quality of the trainer. I look forward to meeting other toastmasters in the near future. Thank You Jim Jardine Wales
Perfect delivery in a relaxed manner, just what I like. Excellent Ronald Greenfield Louisiana USA
First class training by a very impressive professional body. Colin R Whitehead Essex
The course is delivered in a relaxed one to one atmosphere with a personal insight to the profession. The back up and training is amazing and makes you feel part of a team, camaraderie is probably the word, giving you the confidence to do the job, excellent tuition, thank you for the course. Graham Skingley Essex
Professionally presented course in a relaxed and enjoyable atmosphere. Superbly supported by Lindsey and Linda. This course has given me the confidence to offer a more professional service to future clients. A pleasurable experience throughout. Many thanks to you Richard Roy Timms Bicester Oxford
Need more time, Richard Palmer is a good instructor and will also listen and answer questions honestly. Barry W Gilden Florida USA
I believe the course fullfilled my objectives. It was well paced and passionately delivered by Richard. The DVDs show real life weddings. These were especially helpful. The course is not only about delivering toastmaster services, but more importantly about delivering with care for the client. Michael Wall Sheffield, Yorkshire
Thank you for sharing experiences, in a very relaxed and informative yet positive manner. Mike Culleton Liverpool
Hugely informative and fantastic fun. You've put a huge amount of yourself - energy, knowledge and personality into these last three days. Thank you ever so much. Nick Lawler Cumbria
Richard, Many thanks for a fantastic day with you, I have gained so much in a short space of time. Roy Austin Berkshire One day Alignment Course for experienced toastmaster joining the English Toastmasters Association.
Having made enquiries with a number of organisations, I found you to be the most responsive to my enquiry. You clearly have a wealth of information that you are happy to impart. The one to one suited my needs brilliantly and to my timescale. I came with great expectations - I left overwhelmed with the amount of information & support at my disposal. I am proud to have joined such a well organised Association. Garry Smith Bedfordshire
Richard is an inspirational teacher who is a master of his craft and he has filled me with absolute enthusiasm for my new career as a Toastmaster. Kevin Goodwin Lancashire
Excellent course - did not want it to end. I feel I have hit the groung running, through excellent tuition given. Michael O'Rourke
Excellent course. Commitment shown in passing over the knowledge is second to none. One to one relationship is a major benefit because you have individual attention and full concentration to get the best results. I now feel very confident that I can deliver excellent service to my clients. Tony Smith Essex
My sincere thanks for an excellent three days. My head is still buzzing and I am feeling enthusiastic and ready to go. The manner in which you have approached the course is relaxing and is conducted at a comfortable pace. The course is well delivered and informative. It makes learning a pleasure. The DVD's are extremely helpful. I have seen the work of a toastmaster from a new perspective which I will endeavour to practice in the future. I have high standards to work to! Geoffrey Cornwell West Sussex
An excellent course.
The one to one course is very flexible and adaptable and met my needs fully. A very satisfying and fulfilling three days, which has inspired me to become an effective toastmaster for my clients. Malcolm Brown Devon
The course was a wonderful insight into the arts and skills required to become a successful toastmaster. I hadn't realised the importance of strategic alliances with other core workers within the wedding industry, and also how little of the role is actually making announcements!
The valuable advice concerning marketing and sales strategies was a completely new ball game to me and you led me through that particular minefield with extreme patience, wisdom and good grace! The whole course was delivered in a relaxed though professional manner, I particularly enjoyed the interaction with the other toastmasters, meeting David, Jennifer and Linda, the lunches and visiting the venues. I am extremely grateful to you, proud to be a member of the ETA.

A younger, fresher approach to toastmaster training, a natural and relaxed way of learning. John Claxton
I found the course interesting, informative and presented in a very personal manner. The one to one format is conducive to ensuring that Richard was able to see that each issue was understood before moving on to the next. Visits to venues and having lunch together also made the learning process more pleasurable. I do not believe that the course could have been presented any better and leave it enthusiastic and confident. Thank you Richard.
A further comment from John, several months after the course, "I am very happy with the reaction of clients to the way I have been taught to go about my business". John Churches
Richard obviously tailors information and needs delivery to suit candidates' abilities. An excellent course where I gained everything I required to give excellent service. Terry Hughes Dorset
As a member of the teaching profession for over 30 years I was very impressed by Richard's teaching style, which was both relaxed and thorough. At no time did he cast himself in the role of "expert", but, instead, he guided and mentored me through the course on equal terms, encouraging me to bring out and develop my own gifts and talents. At the same time, there was enough rigour during the training to ensure that all of the essential details were covered and that I felt equipped to further my career as a toastmaster.
It was a privilege to be able to shadow Richard in action at a wedding and to be present at an actual meeting with clients. This provided much more insight into the realities of the job as toastmaster than any amount of classroom based theory could afford.
II now feel that I am a member of the best professional organisation for toastmasters that there is, and that Richard is a senior "partner" in the full sense of the word. Thank you Richard for your friendship, conscientious example and consummate professionalism. Adrian Hayes
I feel that all the information has been well researched and the whole delivery calm, informal and thorough. The caring manner and treatment by Richard was really great, making the learning process a pleasure. John Parker
The delivery of information suited my particular learning style and was very effective. The course was not only informative but was also a pleasure to attend. I have thoroughly enjoyed my time and hope that the relationship forged will continue to grow and become stronger. Mark Greatbatch
The three day course is an excellent grounding for toastmasters. The course was delivered in a thorough and professional manner with the focus on the client being an important theme running through the various topics. Additionally, being able to meet Front of House management is exceptionally useful as this provides understanding of their expectations. Andrew Morgan Essex
The course was very helpful and informative in detail. John Quinton-Navarro Hertfordshire
Thank you for your hospitality, openness, absolute professionalism and knowledge sharing. Peter Cashmore
Excellent course, relaxed atmosphere, very good value. A pleasure to have been part of the training course. James Lark Kent
Very enjoyable, informative course, delivered in a relaxing way. Brian Cox Dorset
I think that the format was excellent. Clearly has the flexibility to meet individual needs. A thoroughly enjoyable, informative and helpful experience and has whet my appetite for toastmastering duties. THANK YOU. John Turner Yorkshire
Phone us now on 01245 222992 / 07971 409977 to talk to us about your future as a toastmaster or alternatively via our contact form